Scientists find link between tropical storms and decline of river deltas
A study published by Nature reveals the threat posed by changing weather patterns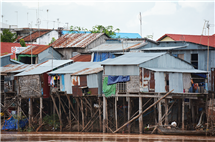 Rivers are notoriously hard to study over long time periods. An international research team, however, has used new techniques, data, and methodology to reveal the threat posed by changing storm patterns to river deltas around the world.
Jim Best, the Jack and Richard Threet Professor of Sedimentary Geology at Illinois, along with researchers from the universities of Southampton (United Kingdom), Exeter (U.K.), Hull (U.K.), and Aalto University (Finland), studied the Mekong River in Cambodia and Vietnam, the world's third largest river delta and home to 20 million people. The study, funded by the U.K. Natural Environment Research Council, found that changes in the behavior of cyclones are starving the delta of sediment that is necessary to guard against flooding.
The research has global implications, as other major rivers such as the Mississippi, Ganges (India and Bangladesh), and Yangtze (China) have catchments that are regularly struck by tropical storms. Their findings have been published this week by the journal Nature.
Deltas are landforms generated by sediment that has been washed into rivers and carried downstream. This sediment builds up where the river meets slow moving or still water, such as oceans or lakes, and a constant flow of new deposits is vital to offset natural changes and prevent potentially disastrous flooding.
"We show that tropical cyclones provide the driving force for supplying about one third of the supply of suspended sediment to the delta," said Best, a faculty member in the departments of Geology and Geography and Geographic Information Science. "In addition, if, as some present models show, cyclone tracks will shift under a changing climate, these cyclone-driven yields of suspended sediment may decline further."
The research team developed a new method of analyzing archived measurements of water and sediment discharge in the Mekong River to detect sediment concentration dating back over two decades (1981-2005). By modeling the water that flows through the Mekong River, they were able to isolate the impact of changes in tropical storms on the river's sediment load, apart from human influences such as sand mining and damming.
"Our study is the first to show the significant role tropical storms play in delivering sediment to large river deltas," said Professor Stephen Darby of the University of Southampton, who served as the study's lead investigator. "We show that although human impacts affect the amount of sediment in a river—cyclonic activity is also a very important contributing factor."
Best holds a Diamond Jubilee International Visiting Fellowship at the University of Southampton. This three-year fellowship aims to foster collaborative work, and Best has been fully involved in field research, analysis, writing, and presentations. This is the second paper to arise from the collaboration.
"Understanding and predicting the quantity of sediment such great rivers supply to their deltas is of great societal importance in more fully assessing the risks faced by these vulnerable coastal systems," Best said.
Peter Franklin, University of Southampton, and Taylor Hoffman
10/21/2016
Related Topics
Geography and Geographic Information Science
Faculty research
Environment
Life science
College of LAS News
Special Series
Marketing and media
Faculty honors and RSS Feed