Doctor on wheels
Alumnus hits the driver's seat to save lives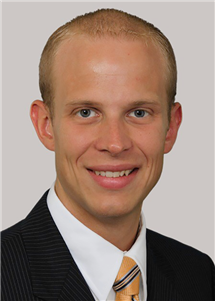 Emergency medical care is more advanced than ever, but advanced treatment still hinges on victims being transported to a hospital. However, a doctor and LAS alumnus is leading a program that takes a new approach: He's basically bringing the emergency room to the patient.
Kurt Bloomstrand (BS, '09, molecular and cellular biology; MD, '13) chose to return to Urbana-Champaign after earning his medical degree, not only to take charge of a new approach to emergency medicine in area cities, but to give back to help students at his alma mater learn how to start a career in emergency medicine.
Bloomstrand is medical director of Presence Health Regional Emergency Medical Services. He saves lives behind the wheel of Presence Health's Physician Response Vehicle that operates in the Champaign, Urbana, and Danville, Illinois, areas.
Better equipped than a usual paramedic team, Bloomstrand's Physician Response Vehicle is outfitted with everything your typical ambulance has, plus additional lifesaving tools and medications that he can administer as a physician.
In addition to responding to major emergencies from behind the wheel of the Physician Response Vehicle, Bloomstrand also oversees all of the Presence EMS medical care that is provided in his region, including 65 agencies throughout seven counties around Champaign County. Bloomstrand ensures that these agencies have the tools and the education that they need to provide high-quality patient care, as well as doing quality assurance to ensure that patient care is up to proper standards.
This isn't Dr. Bloomstrand's first time working with Presence Health; during his undergrad days here at U of I, he worked as an emergency medical technician (EMT) for Presence Pro Ambulance. Having received his EMT license in high school, Bloomstrand has spent most of his life building on his emergency medical skills.
After medical school at the University of Illinois College of Medicine at Rockford, Bloomstrand went on to complete his emergency medicine residency at the University of Illinois' College of Medicine in Peoria. Once he had all of his credentials, he returned to Presence Health and was named to the position that he holds today.
Bloomstrand said that his job is one of passion, and that he finds his job to be one of instant and constant gratification.
"That's why I got into emergency medicine," Bloomstrand said, "because you truly have the opportunity to make a difference in somebody's life immediately, when you're needed most. That's the most exciting part, and as cliché as it sounds, helping people is what really gives me the motivation to keep doing this."
On top of saving lives as a mobile doctor, Bloomstrand helps out Illini EMS, a former registered student organization at Illinois that has recently been upgraded to an official department under the University of Illinois Fire Service Institute. Illini EMS provides medical care through all of campus, as well as training for students that are interested in emergency medical services. Bloomstrand oversees the unit's medical care.
"I came from Illini EMS," Bloomstrand Said. "That's what got me interested in emergency medicine… so it's like coming back full circle, because that's where I started, and now I get to help them out in my medical director capacity."
Bloomstrand and Illini EMS are currently working on an educational film to help promote safety on campus and campus EMT classes. He expects the film to be released relatively soon.
Bloomstrand has taken many steps in making himself a valuable resource to the University and the cities surrounding it, and he said he is happy to answer any EMS-related questions. He can be reached at kurt.bloomstrand@presencehealth.org.
Logan Weeter
2/10/2017
Related Topics
Molecular and Cellular Biology
Alumni
Alumni Profile
Life science
College of LAS News
Special Series
Marketing and media
Faculty honors and RSS Feed