Thirty LAS undergrads selected to Senior 100 Honorary
Seniors chosen for achievements and commitment to the future of the university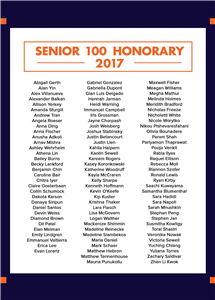 Thirty graduating seniors from the College of Liberal Arts & Sciences have been selected to the Senior 100 Honorary for their notable achievements.
LAS students from 17 majors, ranging from molecular and cellular biology to psychology, philosophy, history, gender and women's studies, and more, are among 100 seniors selected from across campus for the honor. Senior 100, which is sponsored by the University of Illinois Alumni Association and the Student Alumni Ambassadors (SAA), is also intended to recognize seniors for their commitment to the future of the university.
"These students will become alumni that enthusiastically bring their sense of responsibility to new communities while staying tied to the University of Illinois," SAA said.
The list of honorees from LAS, including their major, is below. Click the photo to view a list of all campus recipients.
Alex Villanueva, history; political science
Andrew Tran, integrative biology; chemistry
Anusha Adkoli, molecular and cellular biology; economics
Ashley Wehrheim, molecular and cellular biology; psychology
Bailey Burns, psychology
Chitra Iyer, molecular and cellular biology; psychology- behavioral neuroscience
Collin Schumock, economics; political science
Devin Weiss, sociology
Diamond Brown, molecular and cellular biology
Dil Patel, molecular and cellular biology; chemistry
Elan Melman, molecular and cellular biology
Evan Lorenz, psychology
Hannah Jarman, global studies; communication
Heidi Warning, economics
Justin Lien, molecular and cellular biology; psychology
Katherine Woodruff, English secondary education
Kelly Sharpe, mathematics; economics; Spanish
Kevin O'Keefe, French Language
Lisa McGovern, history
Mackenize Shimmin, molecular and cellular biology
Madeline Reinecke, psychology; philosophy
Maxwell Fisher, economics
Megha Mathur, Spanish; interdisciplinary health sciences
Nicholetti White, psychology, gender and women's studies
Pariyamon Thaprawat, molecular and cellular biology honors concentration
Rabia Ilyas, psychology
Sara Napoli, molecular and cellular biology
Stephen Jan, molecular and cellular biology
Susmitha Kowligy, molecular and cellular biology
Toral Shastri, molecular and cellular biology; psychology
Dave Evensen
4/13/2017
Related Topics
History
Political Science
Integrative Biology
Chemistry
Molecular and Cellular Biology
Economics
Psychology
Sociology
Global Studies
Communication
English
English Secondary Education
Mathematics
Spanish and Portuguese
French and Italian
Gender and Women's Studies
College of LAS News
Special Series
Marketing and media
Faculty honors and RSS Feed