New course brings students to Washington, D.C.
Dozens of alumni working in the nation's capital help teach students about careers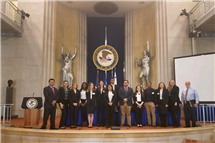 Twelve U of I students took advantage of spring break to visit Washington, D.C., for a week of site visits and career-building and networking events with professionals – many of whom were Illini alumni.
The trip, organized by LAS career development specialist Melissa Schoeplein, was part of a class centered around this trip. Schoeplein began organizing the new course, called LAS 199: Exploring Careers in Government – LAS in D.C., in fall 2016, and it launched this semester.
Every day during the visit, the students would go into the heart of D.C. to meet with several U of I alumni who have professional positions in Washington. Alumni (the class met more than 30) spoke about how they ended up in their positions, and the students were able to ask plenty of questions about the various types of career paths.
With stops in the itinerary like the Department of Justice, the U.S. Senate, and the U.S. House of Representatives, the U.S. Department of State, and C-SPAN, the students learned more about building political careers and professional growth in general. The students' D.C. interaction didn't stop with government, however. Other stops on the trips included visits to consulting firms and other non-government organizations.
For example, students met with Illinois alumni including William Brighton (BA, '73, French), an assistant section chief in the Environment& Natural Resources Division at the U.S. Department of Justice, where he manages lawyers handling civil environmental enforcement cases. They also met with Chris Olen (BA, '13, political science and Spanish), who works at the Bureau of International Information Programs at the U.S. Department of State, Corey Tellez (BA, '01, history and political science), legislative director for U.S. Sen. Richard Durbin (D-Illinois), and Robert Kennedy (BS, '78, electrical engineering), co-president of C-SPAN, and others.
Katherine Watson, a junior in English and Earth, society, and environmental sustainability, said that she was particularly impressed when the group made their trip to the U.S. Senate.
"We went on the actual Senate floor, which isn't something that a lot of people get to do," Watson said. "It was almost weird, because it's this really cool place where all these things happen and you're standing right there in the middle of it. It's kind of surreal."
Watson said the group went to visit Congress on the very Friday that legislation to repeal the Affordable Care Act—also known as Obamacare—failed dramatically in the House of Representatives .
"Career-wise, I like so many different types of things, so this trip made me feel a lot more secure in what I want to do after graduation," Watson said. "(Schoeplein) set up all of these events, and she was really good at facilitating them. She picked a broad diversity of events to go to, based on everyone's interests, and even gathered some alumni for a networking event."
Schoeplein referred to the trip as a big success, and thanked the support of U of I alumni for making it possible.
"I was very proud of how the students interacted with all of the professionals we met," Schoeplein said. "Many of the students had big 'ah ha' moments on the trip, realized new career paths that could be open to them, myth-busted ideas they had about certain professions, and learned what it truly means to network and connect with people."
Logan Weeter
4/20/2017
Related Topics
Student Life
French and Italian
College of LAS News
Special Series
Marketing and media
Faculty honors and RSS Feed