Student awarded Boren Scholarship to study in Jordan
Derek Hoot will work with refugee populations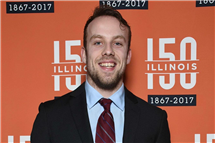 Derek Hoot of Middleton, Wisconsin, a senior at the University of Illinois, has been offered an $18,500 David L. Boren Scholarship to fully cover the cost of his academic year 2017-18 study abroad experience at the Qasid Institute for Classical and Modern Standard Arabic in Jordan.
A political science major with a minor in Arabic studies and a member of the James Scholar Honors Program in the College of Liberal Arts & Sciences, Hoot has served as the president of the campus FBI Students' Academy and also as a legislative aide for Illinois state Rep. Carol Ammons. He also was a team captain of a junior USA men's wheelchair basketball team that competed internationally and is a scholarship basketball player on the university's varsity team.
At the Qasid Institute, Hoot will spend his first semester furthering his skills in Modern Standard and Jordanian Arabic and then set up an internship to work with refugee populations during the second semester. Hoot's long-term goals are to work as an attorney for the Office of Human Rights and Refugees within the U.S. State Department.
The National Security Education Program awarded 194 Boren Scholarships nationwide to undergraduate students to add important international and language components to their educations by studying overseas in world regions critical to U.S. interests throughout Africa, Asia, Central and Eastern Europe, Eurasia, Latin America and the Middle East. This year, 791 undergraduate students applied for the Boren Scholarship.
NSEP is a major federal initiative designed to build a broader and more qualified pool of U.S. citizens with foreign language and international skills. NSEP's Boren Awards program provides U.S. students with resources and encouragement to acquire language skills and experience in countries critical to the nation's future security and stability. In exchange for funding, Boren Award recipients agree to work in the federal government for a period of at least one year.
"The National Security Education Program is helping change the U.S. higher education system and the way Americans approach the study of foreign languages and cultures," said Michael A. Nugent, the NSEP director.
Illinois News Bureau
5/31/2017
Related Topics
Political Science
Arabic Studies
Student honors
Social and behavioral science
Humanities
College of LAS News
Special Series
Marketing and media
Faculty honors and RSS Feed