Professor selected to attend U.S. Frontiers of Engineering symposium
Ying Diao is the fifth from her department to attend the prestigious event since 2008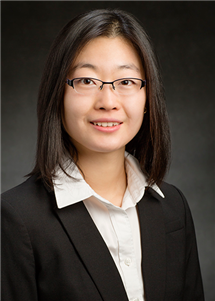 Ying Diao, professor of
chemical and biomolecular engineering
at Illinois, has been chosen to take part in the National Academy of Engineering's 23rd annual
U.S. Frontiers of Engineering symposium
.
The academy invites engineers ages 30 to 45 who are performing exceptional engineering research and technical work in a variety of disciplines to attend the event. Participants—from industry, academia, and government—were nominated by fellow engineers or organizations.
Diao, a Dow Chemical Company Faculty Scholar, pursues fundamental understanding and control of molecular assembly processes to advance innovations in printed electronics for energy and healthcare. She joined the department in 2015 and earned her PhD from MIT and her BS from Tsinghua University. She is the fifth faculty member from the department to attend the prestigious symposium since 2008.
"I am thrilled to be given the opportunity to join a very diverse group of outstanding young engineers in the U. S. Frontiers of Engineering symposium," she said. "Attending this symposium at the early stage of my career will help define my research trajectory, broaden my perspective beyond one discipline, and inspire me to work on cross-cutting engineering challenges to make a real impact."
The 2017 Frontiers of Engineering symposium will be hosted by United Technologies Research Center in East Hartford, Connecticut, on September 25-27, and will cover cutting-edge developments in four areas: Mega-Tall Buildings and Other Future Places of Work, Unraveling the Complexity of the Brain, Energy Strategies to Power Our Future, and Machines That Teach Themselves.
"The Frontiers of Engineering program brings together a particularly talented group of young engineers whose early-careers span different technical areas, perspectives and experiences," said National Academy of Engineering (NAE) President C. D. Mote, Jr. in a written statement. "But when they come together in this program, their mutual excitement is palpable, and a process of creating long-term benefits to society is often initiated."
Sponsors for the 2017 U.S. Frontiers of Engineering are The Grainger Foundation, Microsoft Research, Defense Advanced Research Projects Agency, National Science Foundation, and Cummins.
The mission of the NAE is to advance the well-being of the nation by promoting a vibrant engineering profession and by marshalling the expertise and insights of eminent engineers to provide independent advice to the federal government on matters involving engineering and technology. The NAE is part of the National Academies of Sciences, Engineering, and Medicine, an independent, nonprofit organization chartered by Congress to provide objective analysis and advice to the nation on matters of science, technology, and health.
Christine des Garennes, Chemical & Biomolecular Engineering
7/11/2017
Related Topics
Chemical and Biomolecular Engineering
Faculty honors
Physical science
College of LAS News
Special Series
Marketing and media
Faculty honors and RSS Feed