Going to bat for a dream
Casey Fletcher (BA, '15, communication), star on one of Illinois' greatest baseball teams, digs deep to pursue a family tradition
Casey Fletcher always knew he wanted to play baseball at the University of Illinois.
Growing up in Oakwood, Ill., Fletcher saw baseball and Illinois as a family tradition — Fletcher's father, Darrin, was enrolled in the College of LAS and played for the Illini prior to leaving for a 14-year career in the major leagues, and his grandfather, Tom, an alumnus, played for the Illini in the 1960's before signing with the Detroit Tigers (his major league career was limited by a medical condition).
Fletcher's great-grandfather, Glenn, was also a minor league pitcher in the 30's and 40's.
"I felt like it was my duty to carry on a tradition of Fletchers at the U of I," Fletcher said. "Ever since I was in high school, I wanted to go to the University of Illinois."
Fletcher upheld the generational custom when he transferred to Illinois from Kankakee Community College to play for the Illinois baseball team for his junior and senior seasons, in 2014 and 2015. In 2015, the team set a school record in wins and reached the Super Regionals Round in the playoffs.
Now with an LAS degree in communication, Fletcher is in the midst of attempting to establish a prolonged baseball career like the three generations before him. Unfortunately for Fletcher, his success at Illinois — 126 hits, nine homeruns and 60 RBIs and two all-Big Ten honors in two seasons — didn't result in being a major league draft selection. He admitted it was disappointing.
"I was contemplating just hanging it up," Fletcher said. "I was mad at the whole process so I was like, 'you know, I think I'm done. I had a great college career, but maybe there's another path."'
But shortly Fletcher's senior season, head coach of the Joliet Slammers, Jeff Isom, gave him a call about joining the team. Fletcher took the opportunity and is about to wrap up his second season with the Slammers, a pro team in the Frontier League, which is an independent baseball league.
Compared to the fun, successful two years of playing with some of his closest friends at Illinois, the Frontier League has greeted Fletcher with a different vibe — one with more tension and urgency.
"Not being drafted also gave me that mindset that all these guys have," he said. "We want to play well and we want to hopefully take that next step and have someone give us a chance to play on at the next level."
Fletcher hasn't experienced the same statistical success with the Slammers that he did with the Illini, but his game has grown, especially since he decided to transition from the outfield to catcher in order to add to his versatility. The idea to change positions came from Fletcher's father, a former major league catcher, who has been supportive of the whole process.
"He's naturally been giving me a lot of advice," Fletcher said. "I've just got to keep at it. That's pretty much the only advice that he's given me. I've got to keep plugging away and grinding every day and getting better."
Fletcher's hard work has paid dividends. After hitting for an average of.226 in his first season with the Slammers, his average has improved to .275 in 2016. His RBI output has more than doubled from his first season to his second, and he's played in 13 more games in 2016.
Fletcher had just 26 hits during his first season in Joliet. He has 42 hits this season.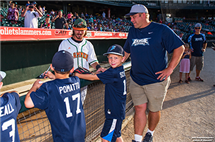 "My dream is to play for a minor league affiliate, hopefully sometime soon," Fletcher said. "But it's been a good experience so far and I've enjoyed every second of it. I've been blessed with the opportunity."
Although his goal is still to eventually have a shot at the majors, Fletcher said it means a lot have his college degree, as he feels it will someday help him obtain a coaching position. That was partly why he took time from the Slammers in 2015 to complete his degree at Illinois.
"It was very important to come back and get my degree because I want to coach in college some day and I didn't want to prolong the process," Fletcher said.
Fletcher made various visits to the Illinois dugout at the request of his former coach and current Illinois baseball head coach, Dan Hartleb. If Fletcher eventually tries his hand in coaching, Hartleb would likely be the first to give his recommendation.
"He was great in the clubhouse," Hartleb said. "He had a great feel for the team aspect of the game and made the clubhouse fun. When the clubhouse is fun, guys relax. I have great respect for him and hopefully he continues to play for a while. I know he's worked very hard."
For now, Fletcher will keep trying to impress scouts for his chance to play at the next level. He can do so with the comfort of knowing that the Fletcher family tradition is still alive — Fletcher's sister, Preslie, just began her freshman year at Illinois.
"I told her to just to have fun and keep her head in the books," Fletcher said.
Joey Figueroa
9/2/2016
College of LAS News
Special Series
Marketing and media
Faculty honors and RSS Feed