Interim dean named to lead College of LAS
Martin Camargo will serve in the position until a new dean is appointed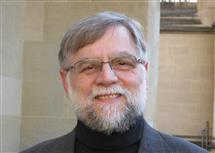 Martin Camargo, a professor of
English
and the associate dean for humanities and interdisciplinary programs at the College of Liberal Arts & Sciences, has been designated interim dean of LAS while the university conducts an internal search for a new dean to lead the college.
Camargo has been appointed in "designate" status pending approval by the Board of Trustees. He will serve in the position from Tuesday, November 1, until the conclusion of the search for the next Harry E. Preble Dean of the College of LAS, according to Edward Feser, interim vice chancellor for academic affairs and provost.
"After consulting with the LAS Executive Committee, the college leadership team, unit heads, and the many faculty and staff who have reached out to me, I have decided that we will launch an internal search for the next dean of the College of Liberal Arts & Sciences," Feser announced. "The individual selected for the position will serve the college for a three-year period with the possibility of a two-year extension."
Feser named a committee to identify and recruit a diverse pool of exceptional internal candidates, and to recommend several finalists for consideration. Candidates are being encouraged to submit materials prior to Friday, November 18.
The dean's post has been open since September, when Barbara J. Wilson, the previous dean, was named executive vice president and vice president for academic affairs of the three-university U of I System. She served in the position since 2014. In 2015, she also served as interim chancellor of U of I's Urbana-Champaign campus. During her tenure as interim chancellor, Brian Ross, executive associate dean of LAS, oversaw college operations.
"Brian has been a tremendous advocate for LAS in his many roles over the course of his career at Illinois," Feser said. Ross is retiring on Monday, Oct. 31.
Camargo, who holds a doctoral degree from Illinois, joined the Department of English in 2003 from the University of Missouri-Columbia, where he was a professor and department chair. His scholarly work is primarily in medieval rhetoric and poetics, and Middle English literature. As an associate dean, he provides support for faculty recruitment and retention, promotion and tenure, and other matters in the humanities and interdisciplinary programs. He has appointments in the departments of Classics and Medieval Studies.
Dave Evensen
10/29/2016
Related Topics
Collegewide
Faculty news
English
Classics
Medieval Studies
Humanities
College of LAS News
Special Series
Marketing and media
Faculty honors and RSS Feed