The art and science of Mammoth Hot Springs
Geology professor publishes book illustrating the beauty surrounding his research at Yellowstone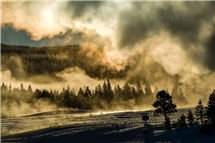 I was first drawn to Mammoth Hot Springs in Yellowstone National Park as a natural laboratory for a NASA project to study how microbes form fossilized "markers" in ancient travertine rock deposits. The water temperature, chemistry and flow at Mammoth are similar to that found on the early Earth, and the hot springs still harbor microbial life that evolved billions of years ago. Microorganisms are essential to the healthy functioning and evolution of all living things and are critical to solving global challenges in environmental sustainability, human medicine, food security, energy generation and even the search for life elsewhere in the cosmos.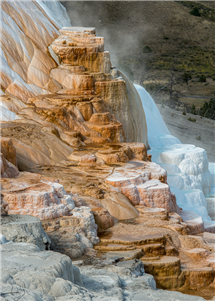 The broad goal of my work is to understand the unifying physical, chemical and biological themes of a natural system like Mammoth on every level, from the single microbial cell to the entire ecosystem, and how these components and dimensions interact. After two decades of investigation, we are just now beginning to learn how Mammoth came into existence, how its vitality and scope can best be conserved, and even how its secrets contribute to the well-being of humanity.
Art and science both originate from the same human desire to understand the world within and around us. Profoundly inspired by the natural photography of Tom Murphy, I have worked with him for five years to create a book that melds Yellowstone art and science. In this book, Murphy's photos of Mammoth Hot Springs in Yellowstone National Park accompany my essays on natural science to illustrate the search for common laws of nature through the power of observation and a willingness to embrace the unexpected.
While writing this book, I came to appreciate the need for educated, curious and good-hearted people from all fields of science and art to work together. Ordinary citizens, moved by the direct experience of nature or by photographs or paintings of the natural world, must join the quest to better understand the Earth by combining the arts and science.
For our survival on this water-rich planet, we need to know much more about how physical, chemical and biological components of natural systems have evolved to work together, and to incorporate that knowledge into our spiritual and metaphysical life as expressed in art.
Editor's notes: "The Art of Yellowstone Science: Mammoth Hot Springs as a Window on the Universe," by Bruce Fouke, professor of geology, and photographer Tom Murphy, is available in hardcopy and eBook versions from Crystal Creek Press. Fouke and Murphy will give a lecture and host a book signing Nov. 16 at the Carl R. Woese Institute for Genomic Biology at the U of I, 1206 W. Gregory Drive, Urbana.
Bruce Fouke
11/2/2016
Related Topics
Geology
Environment
Faculty research
Physical science
College of LAS News
Special Series
Marketing and media
Faculty honors and RSS Feed