Senior in sociology is named a Marshall Scholar
Devin Weiss is one of 30 university students chosen nationwide for the prestigious scholarship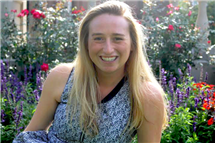 Devin Weiss, of Northbrook, Illinois, has been named a Marshall Scholar. A 2013 graduate of Glenbrook North High School, Weiss is a senior at the University of Illinois majoring in
sociology
.
Funded by the British government, the Marshall Scholarship fully funds outstanding young Americans for two years of graduate study in any field at a United Kingdom institution. Each year, approximately 30 Marshall Scholars nationwide are selected based on their academic merit, leadership and ambassadorial potential.
This marks the third consecutive year that a University of Illinois student was awarded this prestigious honor. Weiss plans to earn a master's degree in gender, violence, and conflict at the University of Sussex in order to inform her career goals of advocating for women around the world.
Weiss spent her first two years at Illinois as a human development and family studies major, where she taught teenagers in a summer academy and served as a teaching assistant for university freshmen.
She has been an active researcher, conducting archival work at the University of Southern California library providing LGBT historical information for inclusion in the state's high school textbooks. At Illinois, she concurrently participates in two different research groups. With professor Brian Ogolsky, Devin analyzes longitudinal data to discern how same-sex marriage policies affect couple stability. With professor Jill Bowers, Weiss writes articles that translate academic work into more accessible content to help promote healthy attitudes and behavioral intentions in young adults' relationships.
Weiss also has educated others about rape prevention. She received training to assist victims of sexual assault through the nonprofit Illinois Coalition Against Sexual Assault. Weiss created a targeted sexual assault prevention program for fraternity and sorority members on the Illinios campus. Through her work in various campus groups as well as in her role as Alpha Delta Pi sorority's risk management chair, Weiss has presented these workshops to more than 1,500 students.
"Devin has the tenacity and mentality of an activist ready to take the world by storm, combined with the patience and endurance of someone willing to work within administrative systems to tackle these issues," said David Schug, director of the National and International Scholarships Program at Illinois, in nominating Weiss for the award. "She is poised to synthesize this knowledge to create truly innovative solutions that increase the welfare of women around the globe."
David Schug, director, National and International Programs
11/30/2016
Related Topics
Student honors
Student Life
Student Profile
College of LAS News
Special Series
Marketing and media
Faculty honors and RSS Feed