Pursuing a passion for medicine and research
"I love to learn and soak up details" - Katie Arrigo-Wozniak, history alumna and senior manager of clinical research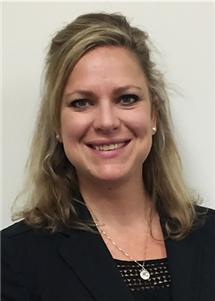 How does a history degree lead to a career in clinical health research? The path isn't as winding as you might think, according to
Katie Arrigo-Wozniak
, who has been employed at Sage Products LLC, a medical technology company, for seven years and running. She's also becoming a leader in her community, being named one of the "Best Under 40" in McHenry County (Illinois) by the Northwest Herald for her career achievements and community involvement.
Job title: Senior Manager of Clinical Research, Department of Clinical Affairs, Sage Products LLC.
Degree: BA, history, '02.
Family: Husband, John, a stay-at-home dad and comedy writer, and two daughters, Naomi (age 4) and Natasha (age 2).
What is a typical workday like for you?
I run the clinical research program, working closely with research investigators and overseeing the development, review, and approval of clinical studies. I manage a team of clinical research associates and project managers who are focused on supporting and conducting clinical operations for products used in hospitals throughout the world.
What was your career path from college to your current position?
Prior to graduating, I worked at the Beckman Institute for Advanced Science and Technology in the neuropsychology research labs of Arthur Kramer on some really interesting research concerning exercise and its effect on the brain (specifically, memory). In addition, I had volunteered at Carle Hospital, in Urbana, and various nursing homes for years, and spent a few months working in health and special services at the College of DuPage while I finished a health correspondence course at Illinois. I went to a job fair for researchers and I got called about an open position almost immediately. I worked as a coordinator of clinical research trials for a few years at Northwestern University Hospital/Medical School (now Medical Center) in the Department of Psychiatry, Division of Children and Adolescents. Later I moved to the University of Chicago where I was promoted to project manager; I got to teach the clinical research training program for the medical center staff, which was a huge honor. Eventually, I was recruited by Sage Products LLC to develop and oversee their clinical research program.
How did your major prepare you for your career?
As an undergrad, I had a passion for medicine, science and law. I got my degree in history with a focus on U.S. and women's history, and took a few classes on medical history. I fell in love with that part of U.S. history. This education really helped prime me for actually working in research. U.S. history can be very dynamic because there is so much to learn and so much has been documented. I love research of all kinds—I love to learn and soak up the details. I ended up spending my senior year focusing on the history of medicine, public health, etc. I also took a number of classes in the sciences both during and after college, which was a great adjunct to my historical studies. Overall, I sort of designed my own degree, and it ended up allowing me to have the knowledge and basic skillset that I needed for a career in clinical research.
What's your proudest career achievement?
It was starting the first women's leadership group at my company. I have seen that a lot of women want to do more but don't realize what opportunities there are, or how to make that happen. This group offered insights and education from real businesswomen who have done it all. In addition, I was recently chosen to participate in a program called Leadership Greater McHenry County, and I was named one of the "Best Under 40" in McHenry County, for business and leadership. These things make me proud because they help me to see that my career is not just about a job; I have had the opportunity through my job to have an impact on other people throughout my company and beyond.

12/9/2016
Related Topics
LAS@Work
History
Alumni Profile
Alumni Honors
Alumni
College of LAS News
Special Series
Marketing and media
Faculty honors and RSS Feed