Tasty invention from Illinois has its own day on the calendar
LAS chemists helped make dessert as we know it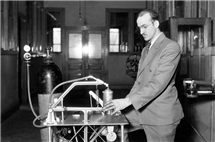 Just in time to put those New Year's resolutions to the test, Thursday is National Whipped Cream Day—a date that's particularly sweet at Illinois.
While the day falls on the birthday of the late Aaron "Bunny" Lapin, who founded Reddi-wip, a big dollop of credit for one of the most popular dessert toppings goes to Charles Getz (BS, '32; MS, '34; PhD, '38; chemistry), who was a graduate student at Illinois during the Great Depression when he discovered that milk infused with pressurized carbon dioxide began to foam.
Getz was researching food preservation at the time, but he sensed more tasty potential in the foaming milk. Working with chemistry professor George Frederick Smith, Getz experimented with pressurized gas on cream and determined that nitrous oxide was ideal for the process, as carbon dioxide created a bitter taste.
The result? "Portable" whipped cream. Getz patented the method, which Smith, with help from his brothers, used to develop a product called Instantwhip, the first aerosol whipped cream, in 1933. The product, of course, proved successful in restaurants, ice cream shops, and soda fountains, and it became the foundation of Instantwhip Foods, which still operates out of Columbus, Ohio.
Dave Evensen
1/4/2017
Related Topics
Chemistry
Physical science
Faculty research
Student Life
College of LAS News
Special Series
Marketing and media
Faculty honors and RSS Feed