History class organizes to fight hunger
Influenced by current events and what they learned in class, students launch food drive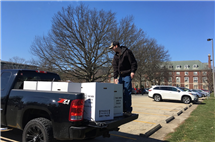 Call it a case of history students determined to prevent history from repeating itself. Members of HIST 172/173 at Illinois, influenced by a class section on the Great Depression, recently organized a food drive that generated more than 300 lbs. of food to fight hunger in local areas.
It started as Leslie Reagan, professor of history, taught students in her United States history class about one of the darkest points in American history.
"We've been talking about the Great Depression and the New Deal," Reagan said. "A third of the country was out of work, and people were starving."
Around this period of financial crisis in America, charities found that their work wasn't enough to feed people, and President Franklin Delano Roosevelt's "New Deal" created many programs that fixed that problem.
"[The New Deal] was part of what prompted me to be interested in thinking, 'Well, maybe we could do something for the local community,'" Reagan said. "So I invited the students to join in a food drive."
Another inspiration for the effort, she added, was a recent survey conducted by researchers at the University of Wisconsin indicating that a third of community college students go hungry. The results indicated that the problem of food insecurity also exists among students at more expensive colleges.
The student response to Reagan's idea was enthusiastic. Reagan said there were about 10 core students involved in planning, publicizing the event, constructing food collection boxes, making posters, and distributing the boxes around campus. The planning included getting other students around campus involved.
Melissa Pietrowicz, a sophomore who created the Facebook event for the drive, said that she was happy to help.
"Some of these ideas included reaching out to major philanthropy organizations like sororities and various (registered student organizations) we are involved in, deciding where to place the food boxes, and advertising," Pietrowicz said. "We were loaned boxes from the Eastern Illinois Food Bank, so we simply contacted various locations requesting to place the boxes, set the boxes up, and attached the fliers."
On the final day of the event, the truck from Eastern Illinois Food Bank arrived on the northern end of Illini Union, and students loaded all of the food that was collected, primarily consisting of donations at residence halls and from campus student organizations.
Sophomore Victoria Daniels said she's always had a passion for charity work, and it helped motivate her to collect food.
"I was just really excited to do this, because I always get involved with these things, even in my hometown," Daniels said. "I'm fundraising co-chair for Pre-Vet Club, so I got Pre-Vet Club involved. Members donated food for points, and in return we were able to get things to donate to the food bank."
On average, the Eastern Illinois Food bank serves over 54,000 individuals every month and delivers more than 7 million meals annually. It uses 96 percent of its resources to give back to the community.
Logan Weeter
3/31/2017
Related Topics
History
Student Life
Outreach
College of LAS News
Special Series
Marketing and media
Faculty honors and RSS Feed