Illinois professor awarded ACLS fellowship
Prestigious award will help Erik S. McDuffie study Garveyism.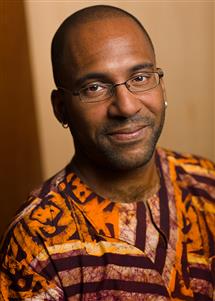 University of Illinois professor Erik S. McDuffie is the recipient of a 2017 fellowship from the American Council of Learned Societies.
McDuffie, a professor of African American studies and of history, is one of only 71 fellows chosen from nearly 1,200 applicants, according to an ACLS news release.
The ACLS Fellowship, which supports scholars for six to 12 months of full-time research and writing, is the second prestigious fellowship for McDuffie this academic year. He also received a National Endowment for the Humanities Fellowship last fall.
"Professor McDuffie's scholarship is making critical contributions to the practice of historical research and is dramatically expanding our knowledge of the historic role African-Americans have played in national and global developments that defined much of the 20th century," said Interim Provost John Wilkin. "He is an exemplary scholar and this is well-deserved recognition."
Both fellowships will support McDuffie's work on his book "Garveyism in the Diasporic Midwest: The American Heartland and Global Black Freedom, 1920-1980." His study aims to serve as a model for writing new histories of both the Midwest and the African diaspora. The project is based on extensive original research conducted in Canada, Ghana, Grenada, Jamaica, Liberia, South Africa, Trinidad and Tobago, and the United States.
McDuffie considers how the Midwest's global manufacturing centers and political infrastructures offered blacks freedom and opportunities that they could not find elsewhere, creating fertile ground for Garveyism and the Universal Negro Improvement Association, the largest black protest movement in world history. At its height in the early 1920s, the UNIA claimed 6 million members worldwide.
Attending to the paradoxes and gendered contours of Garveyism, the project globalizes African-American history and reorients the study of the African diaspora by taking into account the significance of the heartland in shaping the history of the 20th century black world, from Cleveland and Chicago to the Caribbean and West Africa.
Founded in 1919, the ACLS is a private, nonprofit federation of 74 national scholarly organizations, advancing scholarship in the humanities and related social sciences. It will award over $18 million in fellowships and grants this year to more than 300 scholars worldwide.
Craig Chamberlain, Illinois News Bureau
4/17/2017
Related Topics
History
African American Studies
Faculty news
Faculty honors
Humanities
College of LAS News
Special Series
Marketing and media
Faculty honors and RSS Feed