Student in history and political science awarded Truman Scholarship
Junior selected for leadership potential in public service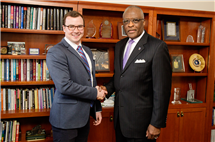 Thomas Dowling, a junior at the University of Illinois at Urbana-Champaign, was awarded a $30,000 Truman Scholarship. Dowling was one of 62 Truman Scholars selected from a pool of 768 nominees from colleges and universities across the country.
Dowling, from Chicago and a graduate of St. Ignatius College Prep, was selected by the Truman Foundation based on his leadership ability, potential for influencing public policies, community service, extracurricular activities and the suitability of his plan of study for a career in public service. Scholarship recipients will receive their awards May 28 at the Harry S. Truman Presidential Library and Museum in Independence, Missouri.
A history and political science major with a focus on civic leadership, Dowling aspires to represent his South Side of Chicago home district in the state Legislature and to get residents more involved in the political process. He has worked to register voters and has participated in political campaigns.
Dowling founded a civic education nonprofit, YOUTHink Politics, to provide a hands-on way for high school students to become engaged in the political process. He solicited funding, gained incorporation for the organization and has been reaching out to various high schools in the state to provide programming.
As a first-year student at Illinois, Dowling worked on Urbana resident Carol Ammons' successful campaign for the state House of Representatives. He also took a leave of absence from the university in spring 2016 to work as an organizer for the Bernie Sanders presidential campaign in Iowa. Dowling's subsequent service as a media intern for the Sanders campaign in Washington, D.C., augmented his prior experience writing political news and op-ed pieces as a college correspondent for USA Today. While in Washington, he also served an internship at the Center for American Progress, where he worked on rapid-response research and communications projects for the progressive nonprofit.
Back in Illinois, Dowling was selected as Ammons' deputy chief of staff. Following that experience, he returned to the nation's capital to participate in the Illinois in Washington Program, where he gained an internship with the AFL-CIO for five months constructing strategies to help workers unionize and get more involved in the political process.
"I am committing my life to public service because I saw the importance of effective representation firsthand, a lesson I will bring with me throughout my future career in the Illinois Legislature," said Dowling, a first-generation college student.
The Harry S. Truman Scholarship Foundation was created by Congress in 1975 to be the nation's living memorial to the former president, with a mission to select and support the next generation of public service leaders. The Truman award has become one of the most prestigious national scholarships in the United States. Beyond the $30,000 scholarship toward graduate study, recipients of the Truman Scholarship also participate in professional development programming to help prepare them for careers in public service leadership.
Illinois News Bureau
4/26/2017
Related Topics
History
Political Science
Humanities
Student honors
Student Life
College of LAS News
Special Series
Marketing and media
Faculty honors and RSS Feed