Four professors in LAS elected to National Academy of Sciences
Selection is one of the highest honors for scientists
Four University of Illinois professors have been elected to the
National Academy of Sciences
, one of the highest professional honors a scientist can receive.
John Cronan, Jeffrey Moore, Donald Ort, and Gary Parker are among 84 new members and 21 foreign associates announced by the Academy on May 2. The professors each come from departments within the College of Liberal Arts & Sciences.
"We couldn't be more proud of the newest members of the National Academy of Sciences from our college," said Feng Sheng Hu, Harry E. Preble Dean of the College of LAS. "This is one of the highest honors for a scientist. This confirms what we've known all along—that these individuals are leading researchers in their fields, and that their departments and the College of LAS are excellent settings for the advancement of science."
Robert J. Jones, the chancellor of the Urbana-Champaign campus, said the announcement is an honor for campus.
"The entire campus community is celebrating the election of our colleagues to the National Academy of Sciences," Jones said. "This is one of our nation's highest honors for scientific achievement, and we are proud to see four more of our distinguished faculty taking their places in this prestigious institution."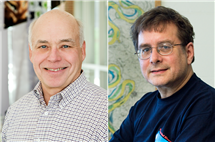 John Cronan is a professor and head of
microbiology
and a professor of
biochemistry
. His research areas include biofuels, enzymology, genetics, membrane biology, microbial physiology and regulation of gene expression. Currently, Cronan's laboratory is studying the regulation of lipid metabolism and protein-lipid interaction of Escherichia coli in an effort to examine the efficacy of several newly developed antibiotics.
Cronan is affiliated with the Carl R. Woese Institute for Genomic Biology at Illinois. Among his other honors, he has earned the National Institutes of Health MERIT Award and Microbiology Alumni Professor.
Jeffrey Moore is the Murchison-Mallory Professor of Chemistry, a professor of materials science and engineering, and a Howard Hughes Medical Institute Professor. Moore and his group examine ideas from physical organic chemistry and engineering with polymer synthesis to invent mechanically responsive materials. Recently, the Moore group partnered with other U. of I. professors to demonstrate that plastics can heal and regenerate after damage by pumping reactive fluids through vascular channels within the material, mimicking blood in a circulatory system.
Moore is the interim director of the Beckman Institute for Advanced Science and Technology at Illinois. He also is affiliated with the Carl R. Woese Institute for Genomic Biology and the Frederick Seitz Material Research Laboratory. He is the recipient of many awards and honors and is a fellow of the American Academy of Arts and Sciences.
Donald Ort is the Robert Emerson Professor of Plant Biology, a United States Department of Agriculture – Agricultural Research Service Photosynthesis Research Unit physiologist and adjunct professor of crop sciences. His research focuses on the growth and photosynthetic performance of plants that are frequently diminished by commonly occurring environmental conditions, such as low temperatures and drought. Ort and his colleges also are very interested in the response of plants to increasing atmospheric carbon dioxide and surface ozone levels.
Ort is a member of the Carl R. Woese Institute for Genomic Biology and director of the SoyFACE facility at the U. of I. He also served as the editor-in-chief of Plant Physiology and associate editor of Annual Review of Plant Biology. Ort has received numerous awards and recognitions, including being listed as one of Thomson Reuters' "Most Influential Scientific Minds."
Gary Parker is the W.H. Johnson Professor of Geology and a professor of civil and environmental engineering. Parker's research interests in geology focus on sediment transport, morphodynamics of alluvial and bedrock rivers and submarine sediment processes such as turbidity currents. As a professor of civil and environmental engineering, his research interests are delta rehabilitation, management of mine sediment waste, gravel augmentation for river habitat improvement and reservoir sedimentation. One of Parker's main goals is to use the fundamental techniques of fluid mechanics and applied mathematics to treat interesting geomorphological problems.
Parker is the recipient of many awards and honors within the fields of geology and civil engineering, including the Association for Hydraulic Research Shoemaker Award (twice), the Einstein Award, Hilgard Prize and Stevens Award from the American Society of Civil Engineers.
The National Academy of Sciences is a private organization of scientists and engineers dedicated to the furtherance of science and its use for the general welfare. Founded in 1863, the academy acts as an official adviser to the federal government, upon request, in any matter of science or technology.
Lois E. Yoksoulian, Illinois News Bureau
5/3/2017
Related Topics
Microbiology
Biochemistry
Chemistry
Plant Biology
Geology
Faculty honors
Faculty news
Life science
Physical science
2017
College of LAS News
Special Series
Marketing and media
Faculty honors and RSS Feed