Department of Mathematics awarded for excellence
Prestigious honor comes from the American Mathematical Society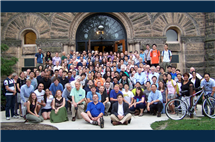 A multitude of options for students, diversity, cross-campus collaboration, and overall performance has earned the Department of
Mathematics
the 2017 American Mathematical Society (AMS) Award for an Exemplary Program or Achievement in a Mathematics Department.
Home for 1,200 undergraduate majors, the department awards nearly 2 percent of the PhD degrees in mathematics across the U.S. Along with its large-scale success, the department was recognized by AMS for its effective innovations helping students succeed at all levels, from those in introductory courses to graduate students.
"The mathematics department at the University of Illinois has done a remarkable job in assisting more students to succeed in mathematics through various programs at both the undergraduate and graduate level and improving the representation of women and underrepresented minorities," said Michael Dorff, of Brigham Young University, and chair of the award selection committee.
Matt Ando, professor and chair of the Department of Mathematics, said many faculty, staff, and students have contributed to the success of the department.
"This award from the AMS recognizes the department's national leadership in research, in graduate and undergraduate education, and in diversity," Ando said. "It is great to work in a department where so many people are committed to progress on the most important priorities of the University of Illinois and of the national mathematics community."
Dorff praised the department's creation of an internship program for graduate students. The Program for Interdisciplinary Internships at Illinois is a National Science Foundation-supported program that connects students with internships in private companies, government labs, and scientific labs in other departments on campus.
Graduate internships have grown rapidly, from six in 2013 to more than 30 in 2016. It is the first program of its kind in a top U.S. research department, and it has attracted national attention.
Dorff pointed out that other innovative projects in the department emphasize "active learning," such as the Illinois Geometry Lab (IGL) that provides a community for undergraduate research. IGL consists of teams of undergraduate students who are able to collaborate with a graduate student and a faculty member on semester-long research projects and community outreach activities.
Topics investigated at IGL have included modeling taxi routes in New York City, the design of lithium-ion batteries, and randomness in number theory, among many others, illustrating the breadth and power of mathematics. IGL students become enthusiastic advocates for mathematics, participating in outreach activities that have reached thousands of people in the community over the last few years.
The AMS also noted the department's commitment to diversity.
"The department has made conscious and consistent efforts to increase the representation of women and minorities," Dorff said. "Many mathematics departments could benefit from following the Illinois approach and implementing some of its programs."
The AMS noted the Merit Program for Emerging Scholars, which began more than 25 years ago. The program recruits students with strong academic records who come from traditionally underserved populations, including members of minority groups and first-generation college students.
Merit students attend regular lectures and special two-hour active-learning workshops in which they collaborate on problems related to the class material. The Merit Program has spread to other departments, and is now a joint undertaking with the Department of Chemistry and the School of Integrative Biology.
Additionally, Illinois has developed an outstanding record on graduate student diversity. The percentage of women in the PhD program has increased from 25 percent ten years ago to 40 percent today, with the assistance of the student chapter of the Association for Women in Mathematics.
Other notable programs offered by the department include the Engineering Calculus Project, which showcases the department working effectively with partners across campus. Faculty and graduate students in mathematics and the College of Engineering teach together and develop science and engineering-based materials for the active learning discussion sections.
The Actuarial Science Program is also a popular option for mathematics majors, as it enrolls around 400 undergraduate majors. It is growing at the graduate level to address increasing demand in risk management.
Though the department has just received such a prestigious award, faculty and staff said they still plan on moving forward continuously to grow and improve their department through offering new online courses and working on a wider selection of courses for majors. They also intend to offer new master's degrees for professionals in industry.
Samantha Jones Toal and the Department of Mathematics
5/5/2017
Related Topics
Mathematics
Chemistry
School of Integrative Biology
Actuarial Science
Student Life
Faculty honors
College of LAS News
Special Series
Marketing and media
Faculty honors and RSS Feed