Center for Advanced Study appoints seven new faculty members
Six of the seven professors to receive academic distinction come from LAS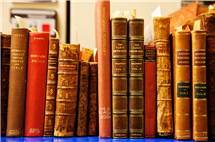 The
Center for Advanced Study
has appointed seven new members to its permanent faculty – one of the highest forms of academic recognition the University of Illinois campus makes for outstanding scholarship. Six of the seven appointments come from the College of LAS.
The new CAS Professors are Antoinette Burton, history; Gary Dell, psychology; Martin Gruebele, chemistry; Sharon Hammes-Schiffer, chemistry; Harry Liebersohn, history; Catherine Murphy, chemistry; and Eduardo Fradkin, physics. They join 21 other CAS Professors with permanent appointments, and they will remain full members of their home departments while also serving on the annual selection committee for the CAS Associates and Fellows program. The new appointments were approved by the U of I Board of Trustees at its July meeting.
Burton is a historian of 19th- and 20th-century Britain and its empire, with a specialty in colonial India and an ongoing interest in Australasia and Africa. She is the author of six books and editor or co-editor of 14 collected volumes and many special issues of journals. She is currently working on an overview of Victoria's empire, a world history textbook and a Bloomsbury series on the cultures of Western imperialism.
Dell's work deals with how people produce and understand sentences, and how these processes can be modeled using neural networks. He has developed a neural net model that makes predictions about the qualitative and quantitative properties of speech errors, which can be used to understand patterns of behavior resulting from brain damage. By changing the processing characteristics of the model, one can produce speech error patterns that are characteristic of certain types of aphasic patients.
Gruebele's research uses experiments and computational modeling to study a broad range of fundamental problems in chemical and biological physics. A common theme is the use of state-of-the-art laser techniques to manipulate complex molecular systems. The results are contributing to a deeper understanding of the way that proteins fold into functional 3-D molecules; the details of how chemical bonds are broken by vibrational motion and how this can be controlled; and the switching of energy flow in large molecular structures on surfaces.
Hammes-Schiffer's research group centers on the development and application of theoretical and computational methods for describing chemical reactions in condensed phases and at interfaces. The group is divided into three general areas: proton-coupled electron transfer reactions, enzymatic processes and non-Born-Oppenheimer electronic structure methods. The group's overall objective is to elucidate the fundamental physical principles underlying charge transfer reactions. These theories also assist in the interpretation of experimental data and provide experimentally testable predictions.
Liebersohn is a professor of modern European history and the author of four books. His research centers on cultural encounters between European and non-European peoples since the late 18th century. He attempts to understand how people from diverse cultures communicate in a broad variety of geographic settings. His current research is on globalization and music since the late 19th century.
Murphy's research group is situated at the interface of materials chemistry, inorganic chemistry, biophysical chemistry and nanotechnology. The group's primary goal is to develop inorganic nanomaterials for biological and energy-related applications, and to understand the chemical interactions of these nanomaterials with their surroundings. The group is pursuing a diverse range of projects: inorganic nanoparticle fabrication and functionalization; cellular imaging, chemical sensing and photothermal therapy using gold nanorods; and the environmental implications of nanoparticles.
Fradkin is an internationally recognized leader in theoretical physics, specifically at the interface between quantum field theory and condensed matter physics. He has recently developed a theory of electronic liquid crystal phases in strongly correlated systems and formulated a mechanism of high-temperature superconductivity based on this new concept.
Jodi Heckel, Illinois News Bureau
7/14/2017
Related Topics
History
Psychology
Chemistry
Humanities
Social and behavioral science
Physical science
Faculty honors
College of LAS News
Special Series
Marketing and media
Faculty honors and RSS Feed