Renovated NHB bridges a beautiful past and sustainable present
Building will reopen for class this fall
The Natural History Building is an iconic sight on the University of Illinois' Urbana-Champaign campus. Built in 1892, the High Victorian Gothic saw 18 University presidents, 24 chancellors, and thousands of students from more than a century of graduating classes. And, with its recent renovation, it is sure to be a part of many more Illinois careers.

The building will reopen its doors this fall after a $78.3 million renovation, toting a design that pays homage to its historical past while introducing sustainable features that will last long into the future. The fusion of old and new forms a space that is refreshingly new, yet historically nostalgic.

It could be said that the building's most interesting feature is its past, as its history can be traced back more than 100 years to original architect Nathan D. Ricker. An Illinois alumnus and the first person to receive a degree in architecture in the United States, Ricker not only served as the head of the University's Department of Architecture from 1873 to 1910, but also as dean of the College of Engineering. On top of that, Ricker molded the beginnings of campus, going on to design four more buildings for the university, most notably Altgeld Hall.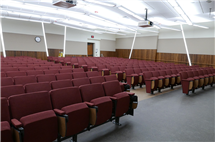 Natural History Building has been placed on the National Register of Historic Places, but more than a century of wear and tear, plus significant structural deterioration, made a renovation necessary.

"Literally every inch of the space was renovated," said Richard Lehner, the partner in charge of LCM architects — no small feat when you're dealing with a 154,000-square-foot building.

"When you're dealing with a renovation, it's a lot of investigations of what's already there. This can be as complicated as what's hidden within walls or what's buried underneath the lower level: utilities, gas, water, sewer. You can open up a wall and find things from previous constructions. In the case of the Natural History Building, we found all of these things."

Despite challenges, the project team managed to prioritize sustainability into the renovation, updating a building that has withstood more than a century of University instruction. The Natural History Building is on track to receive a LEED Gold Certification, the second-highest building sustainability ranking set by the United States Green Building Council.

"If you try to attain LEED Gold Certification, which we were, sustainability absolutely has an effect on the design process," said project manager Jonathan Lundeen of LCM Architects. "We really looked hard into the building's energy. For LEED Gold certification, you have to meet pretty stringent requirements, so we prioritized that in the design."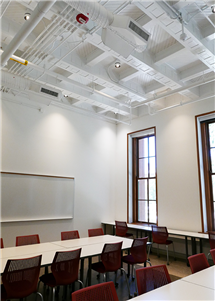 Current campus policy states that all new additions, renovations, and buildings must be certified as at least LEED Silver. The Natural History Building's certification not only exceeded minimum requirements, but was a team effort as well.

"At the end of the day, successful projects take a good client and a good architect. The School of Integrative Biology, the School of Earth, Society, and the Environment, and Facilities & Services (F&S) really helped us out when it came to incorporating a useful design and meeting quality standards," Lehner said.

All programs within the School of Earth, Society, and Environment, which includes the departments of Atmospheric Sciences, Geography and Geographic Information Science, and Geology, will be under one roof for the first time.

The Natural History Building will also become home to teaching programs in the School of Integrative Biology, which includes the departments of Animal Biology, Entomology, and Plant Biology, and the Integrative Biology Honors Program.

The project's efforts certainly won't go unnoticed when the building resumes a familiar position of welcoming students this fall.

"After all this time, all this effort, and all the stress that goes into a project of this scale, this building has a purpose: education and research. It's going to be nice to see it used for that for years to come," Lehner said.

Katie Watson, Institute for Sustainability, Energy, and Environment
7/24/2017
Related Topics
Atmospheric Sciences
Animal Biology
Entomology
School of Earth, Society and Environment
School of Integrative Biology
Geology
Geography and Geographic Information Science
Plant Biology
Collegewide
College of LAS News
Special Series
Marketing and media
Faculty honors and RSS Feed