Lessons in language
University Language Academy teaches children Spanish (and learns from them, too)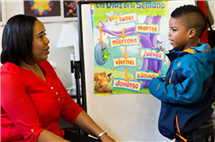 When it comes to teaching language, Silvina Montrul has a motto: Why wait?
Montrul, founder and director of the University Language Academy at Illinois, said she encourages parents to expose their children to a second language long before their teenage years, which is typical for American children. The academy, in fact, offers a full-immersion second language education opportunity for children starting at age four.
"I developed the Language Academy because my research looks at when people start learning second languages, and people in the United States especially begin a little bit too late to achieve the level of success they want to achieve," said Montrul, professor of Spanish, linguistics, and second language acquisition and former head of the Department of Spanish and Portuguese.
The academy, run out of University Primary School by a staff of two year-round teachers, graduate students, and the director, began in 2010. The academy currently focuses on teaching Spanish to children ranging in grade level from pre-kindergarten to middle school, and organizers hope to expand the academy's language offerings to high school.
The academy collaborates with other units on campus, including the Department of Classics, the Center for Latin American and Caribbean Studies, the University Primary School, and the School of Music.
The program is available to children of a young age in hopes that children will keep coming back to learn more. Montrul's research shows that children learn slower than adults, but children have better overall results in the language eventually because of how early the immersion began.
"Our children have participated in the Spanish summer program for the past three summers and they have recently begun their second academic year," said one parent, Nicole Howell. "We have seen our children's Spanish language skills grow in leaps and bounds with the program. The staff is so engaged and enthusiastic. They provide an amazing environment in which the children thrive and learn not just Spanish, but about the cultures in countries where Spanish is spoken."
The academy offers both after-school programs throughout the year and summer camps that take place on campus. There are also various enrollment options, such as half-day options, and discounts for families with more than one child in camp at the same time. Follow the links for enrollment information about after school programs and summer camps.
The after-school program runs four times a week for nine months per year, with children earning a certificate of completion at the end of the year. Some children have been with the academy since it launched in 2010.
"The camps are open to every child and family who wants their children to learn Spanish. It doesn't matter if you already speak Spanish at home or if you don't. We welcome all proficiencies and work at the child's level. That being said, children with differing physical and cognitive ability statuses are also welcome," Montrul said.
Montrul adds that there is very little research on how children learn a language at these formative years in comparison to how much research there is on adults. This has prompted Montrul and the teachers involved to start the process of writing a book about the experience and to promote the model that they have curated in hopes to create a larger impact.
"When we have more results we can start presenting ideas for policy, and educational reform from a research and analysis perspective," Montrul said.
Montrul and others are also observing children ages 4 through 9 at the academy to conduct research on the early development of the grammatical system of Spanish as a second language as well as child development of linguistic and cultural awareness. The research team includes Montrul; Tania Ionin, professor of linguistics; Melissa Bowles, professor of Spanish and Portuguese; Andrei Cimpian, former professor of psychology (now at New York University); former teacher and alumna Alexandra Morales Reyes, now a professor of Spanish at Universidad de Puerto Rico Mayagüez; and graduate students Begoña Arechabaleta (Spanish and Portuguese) and Rejane Días (curriculum and instruction). Some preliminary findings of the research can be found here.
"We have children who come back every summer and we have very committed families," Montrul said. "It's a great program."
Taylor Hoffman
8/16/2017
Related Topics
Spanish and Portuguese
Psychology
Humanities
Social and behavioral science
Outreach
Faculty research
Linguistics
College of LAS News
Special Series
Marketing and media
Faculty honors and RSS Feed