Building a bond with Vienna
Professor retires after 25 years guiding the successful Austria - Illinois Exchange Program
Bruce Murray, resident director of the
Austria—Illinois Exchange Program
, is retiring this month after running the program for 25 years. And to say the professor of
Germanic languages and literatures
is leaving the position on a high note would be an understatement.
Aside from transforming and expanding the program into one of the largest study abroad offerings at Illinois, Murray can count himself among Olympic skiers and renowned scientists after receiving the Grand Decoration of Honor for Services to the Republic of Austria earlier this summer.
The award is a rare distinction granted by Austria's president for outstanding public engagement.
Asked how he feels about receiving the award, Murray said: "There's a word in English — incredulous — which means you can't believe it. It is something that really belongs to the University of Illinois. The university has made a big commitment to this program and, in my estimation, it has been very beneficial, not just to the German department, not just the College of Liberal Arts & Sciences, but to the entire university."
When Murray took the job of resident director, the program mainly served students studying German and was located in Baden, near Vienna. It began transforming itself when it moved to Vienna in 1991. Throughout the years, Murray helped expand program offerings to students in LAS departments, ranging from archaeology to economics, global studies, molecular and cellular biology, and political science. There are also opportunities for students in the colleges of ACES, Business, and Engineering.
Murray said the expansive programs available for students in Vienna represent the STEM fields and beyond.
"I add 'Art' and call it 'STEAM,'" he said, "With the 'A' serving as anchor, referring to the program's foundation in the arts and humanities."
In total, eight semester-length programs are available for students in Vienna. Summer session I programs also attract students to faculty-led courses such as BADM 395: Negotiating Internationally, PS 300: EU and Globalization, and PS 394: Crisis Diplomacy.
One of the most popular programs is the Vienna Diplomatic Program, a huge draw for political science and global studies majors. Participants conduct research projects on one of Vienna's many international organizations — more than 35, in fact— such as the European Union Agency for Fundamental Rights, the Organization of the Petroleum Exporting Countries, or the U.N. International Atomic Energy Agency.
"After World War II, Austria and Germany were outcasts from the world community, and they strove diligently to return to it," Murray said. "Among other things, Austria offered itself as a home to international organizations and succeeded."
With around 125 students participating in the Austria—Illinois Exchange Program each year, Murray said one unexpected take-away can be learning about the United States from a European perspective.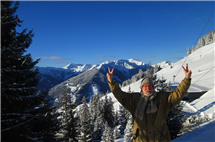 "I studied abroad when Richard Nixon was resigning," Murray said. "People in Germany were so fascinated and wanted people from the United States to tell them, 'What is that? What's going on here? Why is he leaving?' And I couldn't talk very much about it. It motivated me to learn fast so that I could communicate with Europeans as a well-informed U.S. citizen."
Murray said he sees this same ironic occurrence with his students during their studies in Vienna, especially surrounding the subjects of climate change, migration, and democratic institutions, just to name a few.
"You would be amazed how learning about Europe leads one to ask: 'Well how is it in the United States?' Often we are unsure, but then we find out."
With Vienna ranked as one of the best cities in the world for quality of life, Murray said it's not uncommon for students to return for a visit after graduation. Many also stay in touch through LinkedIn. Murray often finds himself impressed by the career development of his former students.
"Working with students as an instructor, advisor, and mentor — we learn together, we ride bikes together, we go to concerts together — it results in playing a rather significant role in their lives," Murray said. "It constitutes a solid foundation for a lifetime relationship. It's somewhat similar to being a proud parent."
Though Murray is retiring, the Minnesota native doesn't see himself returning to the United States permanently. In fact, Murray said with a wink he plans to "commute."
"In the recent years, as we've come closer and closer to retirement, my wife and I have said, 'we will never completely leave Vienna.'"
Samantha Jones Toal
8/23/2017
Related Topics
Germanic Languages and Literatures
Student Life
Faculty honors
Political Science
Economics
Molecular and Cellular Biology
GLOBAL STUDIES
Humanities
College of LAS News
Special Series
Marketing and media
Faculty honors and RSS Feed