Renovating an icon
Altgeld chimes fall silent
You don't have to be a student of architecture to see that there's something different about Altgeld Hall. Maybe it's the Romanesque façade of dark, roughly hewn Minnesota sandstone, or its striking—and sometimes unsettling—artistic features, such as a savage gargoyle over a small door on the west side of the building. Maybe it's the tower, looming more than 130 feet over the sidewalks.
Of course, Altgeld's most resonating trait has nothing to do with the 120 year-old building's physical appearance. The chimes of Altgeld have marked time and provided music to the Quad for almost a century. They're beautiful, constant, reliable, and—in tandem with Altgeld's solid-looking exterior—perhaps one of the reasons it's easy to overlook this: It's been 60 years since the building was renovated.
Campus officials are planning a $90-$100 million renovation of Altgeld and the nearby Illini Hall, which serve together as home to the departments of mathematics and statistics. The renovation is a necessity because of their age and also their capacity. Student enrollment in the departments' courses has grown by 50 percent in the last decade; the number of mathematics and statistics majors has doubled.
Plans call for 22,000 square feet of new or modernized classroom space and 11,000 square feet of space for growth in the departments, increasing floor space by 25 percent.
Matt Ando, associate dean of physical, biological, and mathematical sciences with the College of LAS who also served as chair of the Department of Mathematics for six years, said that each year more than 40 percent of Illinois undergraduates take a mathematics or statistics course.
"The two departments play a critical role in enabling research across a large and growing number of fields, including biology, engineering, medicine, and physics," Ando said. "The renovation of Altgeld and Illini Halls will unleash tremendous potential in these two great departments, creating opportunities for collaborative learning and research that will benefit thousands of students and enhance research across the college and the university."
The renovation of Altgeld is more than a practical matter, however. It's also a symbolic one. The chimes of Altgeld fell silent earlier this year—aside from automated time-keeping sequences—as the tower was closed for repairs for an undetermined amount of time.
Ironically, however, the day the music stopped served as a clear signal that Altgeld needed help.
"The condition of the chimes is a little bit of a canary in a coal mine," Ando told the News-Gazette. "That particular area is in particularly bad shape, but the whole building hasn't been renovated since the 1950s, and it's showing wear and tear everywhere."
A symbol of strength and equality
Historically speaking, the condition of Altgeld is symbolic for the entire campus, not just mathematics and statistics. Remarkable as Altgeld is today, it was even more remarkable when it opened in 1897. That was when the University of Illinois was just 30 years old, and its great reputation was not yet established.
Campus leaders wanted to distinguish the university as a select institution of higher learning, and Altgeld was where they chose to make their point. Then-Gov. John Altgeld, who was raised by poor, illiterate German immigrants before working his way out of poverty to study law, believed strongly that a state university could provide everyone with an education normally afforded only to the wealthy.
He fought fiercely for state funding to the U of I in the late 1800s, including an appropriation of $150,000 to build Altgeld Hall (which would be named in his honor some 40 years after his death). He drew a connection between the building's designs and the university's greater purpose.
"We want an institution that shall be thoroughly modern in spirit and effort, and from those halls shall go forth men and women of such strong moral fiber, such industry and such fervor of soul, that they will lead our people on to loftier planes and greater glory," he once said.
Professors of architecture Nathan Ricker and James White—who between them designed several campus buildings, including Lincoln Hall and the Natural History Building—worked with students and graduates of the Department of Architecture to produce a design that was acceptable to all.
A 1969 study of Altgeld by Muriel Scheinman (MA, '69; PhD, '81; art history), who was earning her master's degree in art history at the time, noted influences on Altgeld from all over the world, from the Berlin Royal Polytechnikum and St. Mark's Cathedral in Venice to the Albany (New York) City Hall.
"We, who have watched the building, from day to day, from beginning to end, take pleasure in assuring our friends that it is thoroughly built, that it is just as solid and substantial as it looks," said James White, during the building's dedication in June 1897. "The State has received a full equivalent for every dollar put into it."
The next renovation
Private and corporate support is needed to secure the future of Altgeld and Illini Halls, but a feasibility study is complete and the renovation is slated to begin in the next few years. Workers will take care to preserve both buildings' architectural heritage, as Altgeld has been on the National Register of Historic Places since 1970.
This means that, in addition to renovating and adding modernized classroom space, intricate floor mosaics, murals, paintings, and woodwork in Altgeld will be restored. The Mathematics Library will have its distinctive, glass-panel flooring also restored.
Heating and air conditioning will be replaced throughout the building to increase energy efficiency, improve classroom environments, and protect collections in the Mathematics Library. A second elevator will be added to make all of Altgeld accessible. And the building's dark exterior will be cleaned to bring back the original color of the pink sandstone.
"A renovated Altgeld Hall is a magnificent vision. Moreover, with support from friends of the university, it is absolutely attainable," said Feng Sheng Hu, Harry E. Preble Dean of the College of LAS. "We want to fully embrace the historic significance of this great building, while also creating a 21st-century academic environment that benefits the entire campus."
How to support the project: See altgeldillini.illinois.edu/project-details/
Sue Wood retires after 45 years in Altgeld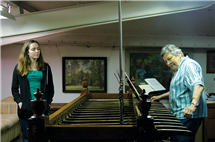 For Sue Wood, a career spent playing the Altgeld Hall chimes was what she calls "a system of anonymity."
"I always jokingly say, 'Nobody knows who's up there anyway,'" Wood said. "Many people will come to the door and see someone playing and say, 'Oh, I thought those were all automatic.'"
While many listeners might not have been aware of the musician behind the bells, Wood spent 45 years in Altgeld conducting midday concerts before retiring as chimesmaster in fall 2016.
For decades, she and her students hid away at the base of Altgeld Hall's bell tower to produce tunes ranging from "The Ash Grove" to "Alma Mater" to "Bad Romance" by Lady Gaga. She and her students collaborated on more than 2,000 different songs over the years, and Wood played and taught the art without ever receiving any kind of compensation. Why?
"For the love of music, of course," she said. Wood, 83, began playing chimes prior to her time at Altgeld when she played the 25-bell carillon at the University Lutheran Church in Champaign. She started playing at Altgeld in 1971 as a graduate student under the guidance of Chimesmaster Albert Marien. She quickly became associate chimesmaster, and she became chimesmaster in 1995.
While Wood conducted most concerts during the noon hour on weekdays, she also held performances for special events, such as commencement, Quad Day, and even weddings.
Though the bells are currently inactive, Wood has a bright outlook.
"We know what's coming certainly will be an improvement," she said. "We know what's going on and see the promises for the future—we just sort of take it in stride."
She is fondly remembered by the many people she ushered in to become chimes players. "There is a magic about Sue Wood. She just has an enthusiasm that has not waned one single bit for 45 years," said Cope Cumpston. "She made it possible for many people to have access to a really magical experience."
For an oral history video of the chimes, see go.las.illinois.edu/chimesplayers.
--Samantha Jones Toal
Work is progressing to reopen Altgeld Tower
After keeping time and providing music to the Quad for the better part of a century, Altgeld Tower was closed for repairs in March. Aside from an automated time-keeping function, the chimes have been silent since spring.
While the reopening date has not yet been determined, construction is progressing to bring the tower to safety and accessibility standards. The flooring in the room where the chimes are operated has been leveled and repaired, walls have been painted, and damaged furniture has been replaced. The room housing the automated time-keeping mechanism for the chimes has also been refreshed.
Additionally, workers have refinished chimes playing and practice stands. Playing handles have been painted and note identifiers have been applied and polished. Some new pieces were fabricated, and new pads were installed.
The university has also identified a firm to work on restoring the bells, cables, and the supporting frame for the bells. That work is expected to last four to six months. Meanwhile, engineers are assessing the building for any necessary repairs to masonry and reinforcing structures.
The work on Altgeld Tower is an extension of the larger project to update Altgeld and Illini Halls. The cost is in addition to the estimated $90 to $100 million required to renovate the rest of the two buildings.
This is not the first time the chimes have been silenced for repairs. According to former chimesmaster Sue Wood, the tower was closed for a period of time in the 1950s to repair cables and other mechanisms.
Dave Evensen and Samantha Jones Toal
9/1/2017
Related Topics
Mathematics
Statistics
Biology
Art history
College of LAS News
Special Series
Marketing and media
Faculty honors and RSS Feed