A meeting of the minds
Traditionally separate, scholars and scientists increasingly explore the possibilities at the intersection of humanities and STEM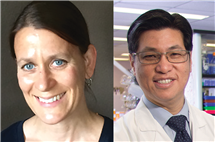 Until recently, Samantha Frost knew nothing of the complex interactions happening at the molecular level that influence human behavior. But that all changed in 2010 when the professor of
political science
and
gender and women's studies
ventured beyond her study of 17th century philosophy to explore ideas in epigenetic research, joining others who are delving into the fascinating possibilities at the intersection of humanities and science, technology, engineering, and mathematics.
She's far from alone. Across campus, students, faculty and researchers are plumbing the depths of this intersection, whether they're immersing themselves in new fields or borrowing tools from one to enhance the other.
There's Ted Underwood, professor of English and information sciences, who's unleashing the power of big data to explore intellectual shifts in 18th century literature, as well as Jodi Byrd, a professor of English and gender and women's studies, who's using video games to help students explore concepts such as indigenous critical theory. Later this fall, the Illinois Program for Research in the Humanities and the Coordinated Science Laboratory will host a multi-day event called Speculative Futures. It will introduce writers and artists to innovations in technology that could one day play a role in the new worlds they imagine.
For Frost, exploring a different discipline allowed her to rethink what it means to be human. As a political theorist, she had studied Thomas Hobbes, an English philosopher who held that everything was matter in motion. Now, she was peering deep inside that matter, studying the inner workings of the human cell and encountering big ideas in a microscopic world.
"It turns out that the greatest fear of people in the humanities, which is that the biological body is sort of stable and fixed, is just not the case," said Frost. "When you encounter provocation in the environment, your body is responding. If it's stressful in some way, there are particular hormones that will circulate through your system."
These hormones eventually enter the cell, creating epigenetic tags that impact the production of proteins controlling everything from motion to thought. This means social interactions can literally become embodied in a physiological form, changing the way in which we engage the world.
"I already had known that the way we think about the body is central to the way we imagine what a person is and how society works," said Frost. "But having discovered that the body is plastic and changeable has made me realize just how many assumptions that we have about ourselves in the world that rely on the idea that the body is stable. It really transforms everything."
Frost was able to pursue her new field of study thanks to the New Directions Fellowship from the Andrew W. Mellon Foundation, which enables tenured faculty to train in secondary fields. Now, she's part of an emerging group of researchers and academics developing the field of biohumanities, examining how findings in the life sciences can generate new forms of self-understanding.
One of the things driving this new breed of interdisciplinary researchers is the need to address large challenges like global climate change, according to Antoinette Burton, professor of
history
and director of Illinois Program for Research in the Humanities.
"I think there's a recognition that every possible form of expertise needs to be brought to bear on these questions, some of which require applied solutions, and all of which are attached to questions of meaning and significance," she said. Humanists can help provide that meaning, Burton said, but at the same time humanists need better literacy in science so they can engage with a full range of colleagues.
Bridging that gap can be a challenge, as Frost learned when she hosted a workshop that brought life scientists, social scientists, and humanists together.
"It took us two whole days just to be able to get to a point where we were almost talking about the same thing," she said. Now, Frost is using that experience to write a paper that will help others working on future projects understand where they might get stuck and how they can work around those issues.
Communication isn't the only challenge at the intersection of humanities and STEM, said Martin Camargo, associate dean for humanities and interdisciplinary programs in the College of LAS.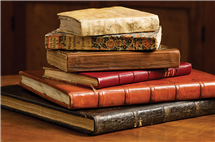 "There's the philosophical divide that's long-standing in western civilization in particular, but there are also institutional obstacles," Camargo said. One way the university is working to overcome that is through the Grand Challenges initiative, which helps undergrads connect their general education requirements with larger themes, including health and wellness, and sustainability and the environment.
"Scientists, humanists, and social scientists are all teaching together in this course," he explained. "So that's an example of a structure that's set up to enable specialists in a wide spectrum of disciplines to talk with each other and engage students."
At the new Carle Illinois College of Medicine, King Li, dean and chief academic officer, is working to make medical humanities one of the pillars of the new school's advanced curriculum.
"Health care is as much a caring business as it is a scientifically driven enterprise," said Li. As leader of the first engineering-focused medical college, he said it's critical to understand how factors like history, religion, and culture can impact treatments and improve how doctors connect with their patients.
Currently, the Carle Illinois College of Medicine is collaborating with the Illinois Program for Research in the Humanities and faculty from across the campus to create a curriculum that explores all of these issues.
In the end, the divide between STEM and the humanities may not really be that wide.
"People in the philosophy department see the origins of computers in their discipline," said Camargo. "That's why they're creating a computer sciences plus philosophy major. They don't think of that as an artificial yoking; they think of that as quite natural."
Camargo is very excited about all of these collaborations and the valuable insights they could generate.
"We are connected," he said. "These are two major categories of human knowledge that will operate better if they incorporate each other."
John Turner
9/1/2017
Related Topics
Political Science
Gender and Women's Studies
Philosophy
English
Illinois Program for Research in the Humanities
History
College of LAS News
Special Series
Marketing and media
Faculty honors and RSS Feed