Going the extra mile for Natural History Building
Iconic building renovation inspires support from faculty and staff
It was almost exactly seven years ago that faculty in the Natural History Building got the word: After standing for slightly more than 100 years, key parts of the building needed to be evacuated immediately.
Though nothing had actually fallen, an inspection using ground-penetrating radar revealed that the reinforced concrete floors of one of the building's oldest portions had insufficient load-bearing capacity. The Natural History Building's future needed to be completely reevaluated.
After much planning and negotiation, it was decided the building, which is on the National Historic Register, couldn't be torn down, but needed to undergo complete renovation. That work is now complete, and Natural History Building, now designed for the 21st century, has reopened. An open house has been scheduled for Homecoming weekend.
Over the years, faculty and staff—and former faculty and staff—have put a significant amount of much of their own time, energy, and resources to secure a beautiful and practical building to house the entirety of the School of Earth, Society, and Environment (SESE).
Steve Marshak, director of SESE, worked in the Natural History Building for more than 30 years before the renovations and can remember how challenging it was to work in the old structure. Now, however, the building boasts beautiful floors and walls, modern services, state-of-the art laboratories, flexible classrooms, and spectacular student gathering places.
Marshak was chair of the SESE NHB Users group, a committee of unit heads and faculty who worked closely with the architects and engineers to ensure that the building met the needs of the people who would populate it.
One of the most special aspects of the building, which distinguishes it from other new construction on campus, is that all of the original woodwork in the building was taken out, refinished, and reused. The classic oak doors and trim still highlight the halls, the first-growth maple that once formed the hall floors now underlies "The Core," the SESE student commons, and the carved wood stairways still rise from the building's north entrance.
In addition to the architectural changes, the academic units using the building has changed. The new building now houses all of the units in SESE (the departments of
Atmospheric Sciences
,
Geography and Geographic Information Science
, and
Geology
, as well as the interdisciplinary
earth, society, and environmental sustainability major
).
Natural History Building is also home to teaching programs in the School of Integrative Biology, which includes the departments of Animal Biology, Entomology, and Plant Biology. The Integrative Biology Honors Program is housed in spaces such as the Integrative Biology Student Commons and the Integrative Biology honors suite.
Marshak notes that the juxtaposition of faculty and students from all these units will open the door for increased collaboration, and will provide a beautiful home that he hopes coming generations of alumni will remember fondly.
"Now we're going to be very visible, so hopefully that's going to increase interest in our courses, majors in our departments, and our interdisciplinary majors. We hope to see increased enrollment," Marshak said. "Also, from the staff and faculty perspective, by being on the main Quad, we're right next to everything."
Aside from helping in the overall planning of the renovation, Marshak also gave personally to the project. He supported the establishment of a display wall for geologic maps.
Don Wuebbles, professor of atmospheric sciences, is another faculty member whose passion for the project led him to donate as well.
Wuebbles previously served as head of the Department of Atmospheric Sciences, and also served as the driving force to form SESE as well as the earth, society, and environmental sustainability major. He and his wife, Barbara, donated a faculty office to the building.
"All of those kind of things contributed to why I wanted to make a difference with the building," he said.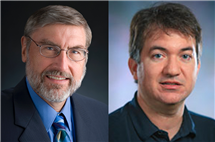 Though no longer at Illinois,
Jim Kirkpatrick
, dean of the College of Natural Sciences at Michigan State University, has a long history with the University of Illinois and the Natural History Building. He was also a donor to the renovation project.
Kirkpatrick came to Illinois from Cornell and received his doctoral degree in geology in 1972. He'd learned about Illinois while at Cornell earning his undergraduate degree, when Kirkpatrick attended a University of Illinois summer camp in Wyoming.
"The first time I was ever in the Natural History Building was in 1967 where the first meeting of the field camp was held before we left for Wyoming," Kirkpatrick recalled. "I go back a long time with that building."
After working for ExxonMobil, doing a postdoctoral fellowship at Harvard University, and working for the Deep Sea Drilling Project at the Scripps Institution of Oceanography, Kirkpatrick returned to Illinois to work as a faculty member.
"In graduate school my lab was in the Natural History Building, in the basement. Then I came back to teach and I had a lab, down in the basement," he said. "I taught in that department for 29 years."
Kirkpatrick also has the distinction of being the longest-serving head of the Department of Geology at Illinois.
"I spent most of my adult life in the Natural History Building and had a very successful career there. I understand it in a way that probably not a lot of other people do, brick by brick," Kirkpatrick said. "Physically, we fought that building for years and it's terrific to see it being made into a really well-functioning facility for scientific research and education. I was happy to contribute."
Linda Lorenz
(BA, '65, science and letters; MS, '68, library science), a retired physics advisor and graduate of the School of Information Sciences at Illinois, has always felt a unique connection to the Natural History Building, from its colorful interior, to the stuffed birds, to the lifelong friends she met inside.
"I've been in and out of this building my whole life," Lorenz said.
Her father was a forestry professor at Illinois, and growing up she learned to take delight in nature.
"You could come into Natural History Building and look at birds — there'd be woods and wild flowers inside the cases," Lorenz recalled. "And I love the Natural History Building's wood floors. They were creaky back then. This place was just the most wonderful building."
Aside from her love of the building itself, Lorenz said she met one of her very best friends, a man from Maine named Wilbur Luce, a professor of zoology who taught her genetics lab class in the building. She recalled herself, Luce, and others going bird watching. Later she met him at a local Quaker meeting.
For Lorenz, this is just one of many memories she connects to the creaky wooden floors of the Natural History Building—and one of the things that compelled her to give to the project.
"I just have so many people that I met in this building, that have worked in this building or any of that kind of stuff," Lorenz said. "I was glad to contribute."
Christopher Korose (BS, '96, geology; MS, '10, geography and geographic information science) found himself in and out of the Natural History Building his entire undergraduate career and beyond. Korose has worked at the Illinois State Geological Survey for 21 years, and his career started within the walls of the Natural History Building.
"The geology students considered the Natural History Building their second home. I've spent a lot of time there and I have a lot of good memories. The building means a lot to me," Korose said. "Whether it was class, lab or the geology library, geology undergraduates used it as their hangout."
Korose was a donor to the renovation project. He said some of his former classmates and lifelong friends plan to reunite at the Natural History Building's dedication ceremony during Homecoming for what he calls a "geology reunion."
"This really speaks to the building and its impact on people that I have a soft spot in my heart for," he said.
As a geologist, Korose focuses on topics relevant to many people, such as geologic carbon storage, carbon sequestration, and geological mapping related to the location of coal mines, oil, and gas. As an alumnus, he is happy that the place where his career began was renovated instead of torn down.
"Everyone started and ended there. It was our home base," Korose said. "Some of us might miss the old, creaky, wooden floors, but to upgrade it and add modern equipment and lab space sounds perfect."
Opportunities still exist to support the renovation of Natural History Building. Gifts of all sizes are welcome. Learn more here.
Samantha Jones Toal
10/10/2017
Related Topics
Donor stories
ATMOSPHERIC SCIENCES
Geology
Earth, society, and environmental sustainability
School of Earth, Society and Environment
School of Integrative Biology
Integrative Biology Honors
Animal Biology
Entomology
Plant Biology
Geography and Geographic Information Science
Faculty news
College of LAS News
Special Series
Marketing and media
Faculty honors and RSS Feed