Two College of LAS faculty members elected AAAS Fellows
Professors of statistics and animal biology receive prestigious recognition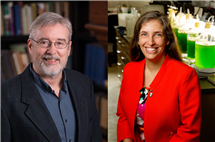 Two faculty members at the University of Illinois at Urbana-Champaign have been elected 2017 Fellows of the American Association for the Advancement of Science.
Animal biology professor Carla Cáceres and statistics professor Douglas G. Simpson are among 396 people to be awarded the distinction of AAAS Fellow this year.
Cáceres studies factors that promote and support biodiversity, including genetics, reproductive and feeding strategies, individual variation and the structure of ecological communities. According to a statement from AAAS, Cáceres is recognized for her "contributions to our understanding of the role of parasites in defining plankton community structure." Cáceres directs the School of Integrative Biology at Illinois.
Simpson's expertise is in applied and computational statistics, with a focus on bioinformatics and biostatistics. He uses statistics to support the study of complex systems and to advance medical imaging diagnostics and risk assessment. He is honored "for distinguished contributions to the field of robust statistics, emphasizing generalized regression modeling and functional data, and for translational innovations in risk analysis." He heads his department.
Founded in 1848, AAAS is the world's largest general scientific society. Fellows are chosen by their peers for their outstanding contributions to the field. The new Fellows will be honored at the 2018 AAAS annual meeting in Austin, Texas.
Diana Yates, Illinois News Bureau
11/20/2017
Related Topics
Animal Biology
Statistics
Faculty news
Faculty honors
College of LAS News
Special Series
Marketing and media
Faculty honors and RSS Feed