Documentary tells stories of three Illinois icons
One icon, Lorado Taft, creator of the Alma Mater, is an early alumnus of LAS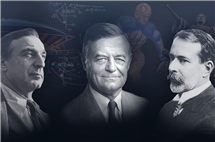 In celebration of the University of Illinois at Urbana-Champaign's sesquicentennial, the Big Ten Network and the University of Illinois tell the stories of three men who left enduring marks on the campus. Max Abramovitz created spaces for the campus to come together. Robert Zuppke changed football and expressed himself through art, and Lorado Taft gave Illinois its most beloved symbol, the Alma Mater.
Their stories are told in "Illinois Icons," a new 30-minute documentary premiering Jan. 16 on BTN. The show will air around 10 p.m. CDT or immediately following the postgame show of the Illinois women's basketball game versus Michigan State. The timing of the game's end may move the broadcast earlier or later. The show will also be available to view on the YouTube channel Illinois1867.
Taft (BA, 1879; MA, 1880; science and letters) presented the Alma Mater statue to his beloved University of Illinois in 1929. His intention was to create a piece with which students would interact. Today, graduates continue to line up to have their picture taken next to her welcoming arms.
The son of a geology professor at Illinois (then called Illinois Industrial University), Taft grew up in Champaign and earned bachelor's and master's degrees from Illinois. (While his degrees came from the College of LAS, it was then known as the College of Literature and Science.) Taft was one of the first sculptors to hire women to work in his studio and thus helped launch the careers of many female artists. Taft was a passionate believer in public arts. "I cannot think of art as mere adornment of life, a frill on human existence, but as life itself," he said.
Abramovitz earned a degree in architecture from Illinois in 1929. His firm, Harrison and Abramovitz, created the United Nations complex as well as the Philharmonic Hall at Lincoln Center for the Performing Arts, both in New York City. His experience with Lincoln Center inspired his work on Krannert Center for the Performing Arts at Illinois.
The university also tapped Abramovitz to create a larger, multipurpose entertainment venue. His design of a 400-foot diameter, unsupported dome for what is now known as the State Farm Center was a groundbreaking achievement. Abramovitz believed architecture told us more about people than other arts: "Since it is in and among our buildings that we live and move, it is in our buildings that our lives are revealed."
Zuppke is the most successful football coach in Illinois history. His coaching career includes four national college titles and induction into the national College Football Hall of Fame. An accomplished artist, he painted hundreds of oil paintings over his lifetime and gave most of them away. Zuppke saw his interest in painting to be a natural complement to football. "The value of portraits, whether in pigskin or pigment, lies in their resemblance to life," he said.
"We hope the show gives viewers a new appreciation for the impact Abramovitz, Zuppke and Taft had on this campus," said producer Alison Davis Wood. "Students and visitors interact every day with the State Farm Center, Zuppke Field and the Alma Mater. They are the legacies of three men who truly loved this institution."
"Illinois Icons" was produced by Tim Hartin, Kaitlin Southworth and Alison Davis Wood for the University of Illinois at Urbana-Champaign's Office of Public Affairs and its Division of Intercollegiate Athletics. For more information, contact Alison Davis Wood, 217-244-7433; or adwood1@illinois.edu.
Illinois News Bureau
1/4/2018
College of LAS News
Special Series
Marketing and media
Faculty honors and RSS Feed