Keeping the balance
Student athletes in LAS manage rigorous training and academic schedules
What's more intense than playing in a Big 10 football game, landing cleanly after spinning 10 feet in the air, or pinning a trained wrestler to the floor? How about doing all that while also earning a college degree? With rigorous practice sessions and regular competitions, student-athletes at Illinois also balance demanding academic schedules.
Athletes in the College of LAS participate in many sports, from swimming and diving to golf, wrestling, football, and softball. They are also enrolled in a variety of majors, from psychology to political science, economics, and molecular and cellular biology. We spoke with a few of them to see how they manage their time.
Karen Howell, a sophomore majoring in integrative biology, is a member of the women's gymnastics team, which has benefitted from her performances on beam, floor, and bars (she earned her first individual title on bars against Penn State as a freshman). Howell has been pursuing gymnastics since she was 8 years old and came to Illinois because of the potential she saw in the team.
"I wanted to pick a school where I was going to be a part of something bigger than myself," Howell said. "When I visited U of I, I saw that there was a program that was developing and not quite at its peak, but on its way up there. In addition to that, I wanted to pick a school where academics and athletics were both evenly balanced, and one wasn't pushed as more important. It was cool to visit a campus that was on the same page as me from the start."
Howell says that she balances her academics with her athletics by loading up on coursework in the off-season and staying on campus over the summer to take classes. That means she can drop to around 15 credit hours in the competition season.
Robert "Bobby" Walker, a junior majoring in political science, is a tight end on the Illinois football team who joined the squad as a walk-on. He recently had what he called his "most memorable" Christmas, when Coach Lovie Smith called to inform him that he had earned a football scholarship for 2018.
Walker described a rigid schedule that he and his teammates follow on a regular basis.
"During the season, we usually have a lift or run in the morning before class around 6-8 a.m.," Walker said. "Then we go to class from after breakfast which is after the lift/run till around 2 p.m… We then have a walkthrough at 4 to 4:30 p.m., then practice from then until 6 or 7 p.m. depending on the day. Then we go studying and do homework around 8 p.m. after dinner, and then we go to bed."
Walker said that this balance between athletics, school, and a personal life is not an easy one, but one that is well worth keeping.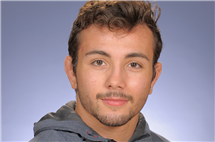 "[Football] requires a lot of discipline and focus," Walker said. "People like to go out and party and stay up late and that is not really an option for me because of our schedule. Also, in order to make sure we can focus on our games towards the end of the week, we have to do most of our work at the beginning of the week."
There are multiple ways to balance student time. David Rivera-Kohr, a redshirt freshman on the wrestling team, majors in biochemistry. He finds time to study in the small moments—the gaps of time between everyday tasks that some students take for granted. That includes passing up a video game or two.
"I do homework almost any chance I get," Rivera-Kohr said. "Last year, especially first semester, I was not as good at putting aside time for homework and studying. As a result, I was constantly stressing out and my grades were not as good as I wanted. Since then I've learned about the importance of making a habit out of homework and studying, and the workload has become much easier to deal with."
Sebastian Quiana, a sophomore majoring in molecular and cellular biology, was named a First Team All-American Scholar-Athlete by the College Gymnastic Association during his freshman year on the Illinois gymnastics team, and he also won the team's Most Consistent Award with strong performances on the floor. He was named twice as the Big Ten Freshman of the Week in 2017 and competed in the NCAA Finals.
As for balancing studies with athletics, he has advise for others facing similar choices: Ensure that you're up to the task and to know where your priorities lie.
"Managing athletics and academics is demanding," Quiana said, "but with good time management and diligence it is not impossible. If you are someone who is on the fence about pursuing a collegiate athletic career, I think you should weigh out the positives and negatives. For me, after looking at the differences, it was an obvious decision to pursue collegiate athletics."
Logan Weeter
1/9/2018
Related Topics
Political Science
Economics
Molecular and Cellular Biology
Psychology
Integrative Biology
Biochemistry
Student Life
College of LAS News
Special Series
Marketing and media
Faculty honors and RSS Feed