Bruce Rhoads honored for geographic research and education
Professor receives lifetime designation as American Association of Geographers Fellow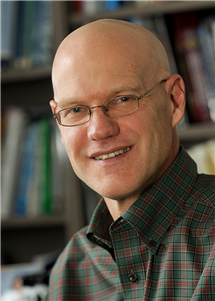 The American Association of Geographers (AAG) is recognizing Bruce Rhoads, professor of
geography and geographic information science
, for his outstanding contributions to geographic research and education with an honorary, lifetime designation as an AAG Fellow.
The inaugural AAG Fellows class consists of 20 geography educators and professionals, chosen for their dedication to teaching and mentorship, groundbreaking research, and outreach that communicates the importance and value of geography to the public. Fellows will help strengthen AAG's core mission of advancing geography, by serving on an advisory panel and mentoring early-career faculty.
Rhoads is a leader in the field of fluvial geomorphology – the study of how streams and rivers form and change over time. He is currently a senior investigator for the National Science Foundation-funded Critical Zone Observatory (CZO) in Intensively Managed Landscapes, which is focusing on how land management practices are affecting Midwest watersheds.
The critical zone is the outer "skin" of the earth, reaching from the bottom layer of soil below the root zone up through the top of the tree canopy. Industrial-scale agriculture has made the American Midwest one of the most intensively managed landscapes on earth, which has significantly changed how water and soil exchange and transport life-supporting nutrients.
Rhoads, along with his colleagues and graduate students, are observing these critical zone processes to address fundamental scientific questions. How healthy are the streams, rivers, and farmlands in the Midwest? And what are the long-term effects of our push for increased agricultural productivity?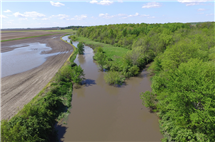 Through his teaching and research, Rhoads is helping shape the future of agricultural and land management practice and policy, while also preparing the next generation of geographers. Just as small streams flow into great rivers, Bruce Rhoads inspires his students and colleagues to explore their passion for the natural world and contribute to the larger body of geographic research and education.
Quinn Lewis (MS, '14, geography) began his geography master's studies in Fall 2011, and is currently pursuing a doctoral degree as Rhoads continued to stoke his interest in the earth's processes by posing challenging research questions.

In 2015, they published a paper based on their comparison study of human-induced and natural changes across river systems. This spring, Lewis begins a new position as postdoctoral Fellow at the Indiana University Department of Earth and Atmospheric Sciences.
"I've always looked up to Bruce as an advisor, academically and beyond. Part of being a successful advisor is knowing when to guide and push, and when to let the student spread his or her wings. He did an excellent job of letting me be myself, while pushing me to improve as an academic."
"Also, as a geographer, Bruce is truly an inspiration. He has shown throughout his career that the work of a geographer can stand side-by-side with the work of engineers, geologists, and natural scientists," said Lewis.
Jessica Zinger LeRoy (MS, '11; PhD, '16; geography), research hydrologist at the Illinois Water Science Center in Urbana, appreciates how Rhoads leads his students to establish their own connections to the natural world, with firm roots in the scientific method.
"The beginning stages of my doctoral field research with Bruce coincided with the 2012 drought, and I remember when we took two kayaks down to my field site on the Wabash River."
"We kayaked slowly, stopping occasionally to point something out to each other. It was so different from how we usually worked at these big field sites, with motorized boats and high-tech instrumentation. He taught me that even though fancy equipment is useful and sometimes necessary, it is equally important to slow down enough to really look at a site and observe with just your eyes," said LeRoy.
Kory Konsoer (PhD, '16; geography), assistant professor of geography at Louisiana State University, values the strong practical training and insights he gained while studying and exploring with Rhoads.
"I've spent many hours in the field with Bruce conducting research, and I always walked away learning something new about troubleshooting equipment, thinking outside the box, and striving for the highest quality data. This is one of the many reasons that Bruce is such an outstanding scientist and mentor. He always works through challenging situations, finds teachable moments even in setbacks, and has a continued passion and curiosity for understanding physical systems," said Konsoer.
Rhoads prepares his students for successful careers in geographic education and research, while also providing essential guidance to early-career faculty. Assistant professor Piotr Cienciala, who studies the effects of land use and climate change on vegetation and fish habitats in rivers, joined the Department of Geography & Geographic Information Science in 2015.
"From the day I arrived at Illinois, Bruce has really helped me navigate the new job," Cienciala said. "I'm grateful for his guidance on the tenure and promotion process, the art of grant writing, and setting priorities in my scholarly activity."
Matt Cohn, Department of Geography and Geographic Information Science
1/11/2018
Related Topics
Geography and Geographic Information Science
School of Earth, Society and Environment
Faculty honors
College of LAS News
Special Series
Marketing and media
Faculty honors and RSS Feed