Staff and academic professionals recognized for service
Six in LAS selected for outstanding contributions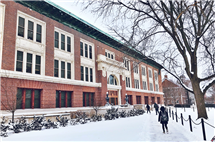 Six staff and academic professionals are being recognized for their particularly noteworthy efforts in advancing the mission of the College of LAS in 2017-18.
Anu Murphy, Alejandra Stenger, and Beth Watkins have been selected by an awards committee to receive the LAS Academic Professional Award. The recognition comes with a $1,000 award, a $1,000 salary increment, and a commemorative plaque.
Charisse Coleman, Adrienne Harris, and Kara Metcalf have been selected to receive an LAS Staff Award. The recognition comes with a $2,000 award and a commemorative plaque.
All six awardees will be honored at a ceremony in March.
"This year's awardees are outstanding employees and advocates for the college," said Feng Sheng Hu, Harry E. Preble Dean of the College of LAS. "Not only are they exemplary in their roles, but their energy and enthusiasm advance the liberal arts and sciences in ways that can't be measured."
Summaries of the winners follow:
Anu Murphy is associate director of NetMath, a distance-learning program in the Department of Mathematics for people who might not be Illinois students. Helping to run a program that seeks to provide mathematical education to people who are not traditional, on-campus college students is no small task, but she is described by colleagues as extremely capable and enthusiastic. Many in the department said they have benefitted greatly from interacting with Murphy.
Alejandra Stenger is a life Sciences and teaching specialist in the School of Molecular and Cellular Biology. Colleagues said that Stenger demonstrates excellence on a daily basis in MCB as she contributes to instructional programs within the school. She remains a tremendous asset to the college and campus as her scope of her duties continue to grow.
Beth Watkins is an education and publications coordinator for Spurlock Museum. Having worked at Spurlock since it opened in 2002, Watkins's work ethic and commitment to the museum is said by colleagues to be matched only by her enthusiasm to help patrons learn about other cultures from around the world. She has performed many roles within the museum, making her an invaluable asset to the museum.
Adrienne Harris was a business/administrative associate in the Department of Mathematics. She is now in the Department of Communication. Described as being deeply committed to teamwork, she is known to display excellence in her overall work performance on a daily basis. A substantial part of her work included helping to manage the department's National Science Foundation GEAR grant program which supports a large international network of mathematicians.
Charisse Coleman is a human resources associate in the Department of Communication. Since joining the department in March of 2013, Coleman is integral to the work experience of many employees. The department currently has 23 tenure system faculty members, 12 specialized faculty members, five academic professionals, five staff members, and about 50 teaching assistants, all of whom rely upon Coleman for human resources-related matters, from hiring to separation.
Kara Metcalf is a business administration associate in the Department of Chemistry. Her direct supervisor and nominator, Scott Denmark, said that he has never encountered a more dedicated, organized, reliable, and personable employee among all his support staff. Described as a person who thrives on learning new things and overcoming challenges, Metcalf started her job with the department knowing very little about the role and has become highly valued both for her professionalism and ability to work well with others.
Logan Weeter
1/24/2018
Related Topics
Mathematics
Molecular and Cellular Biology
Spurlock Museum
Communication
Chemistry
Collegewide
College of LAS News
Special Series
Marketing and media
Faculty honors and RSS Feed