College of LAS alumnus and students win International Achievement Awards
Awards recognize exceptional work and impact
The University of Illinois at Urbana-Champaign and Illinois International Programs has recognized an alumnus, a graduate student, and an undergraduate student from the College of LAS with International Achievement Awards.
Jinwoo Cheon, (PhD, chemistry, '93), Richard Oliver Bido-Madina, a graduate student in neuroscience, and Naomi Kainuma, an undergraduate student majoring in political science, were honored for their exceptional work, service, and scholarship that has made a significant and global impact.
The recipients will be celebrated for their work at the annual International Achievement Awards Banquet on April 4, 2018, at the Alice Campbell Alumni Center in Urbana. The recipients will also participate in a panel discussion titled Connecting Health & Service in a Global Context at 8:30 a.m. the same day. Breakfast will be provided. The panel is free and open to the public but a reservation is requested.
Profiles of the winners follow:
Jinwoo Cheon
, Madhuri and Jagdish N. Sheth International Alumni Award for Exceptional Achievement
Cheon is the founding director of the Institute for Basic Science – Center for NanoMedicine (IBS CNM), a Korean government-funded institution established for cross-boundary research in nanoscience and nanomedicine. He is also the Horace G. Underwood Professor of Chemistry at Yonsei University.
After completing his undergraduate major in chemistry at Yonsei University, Cheon pursued his doctoral degree in the Department of Chemistry at the University of Illinois, where he focused on the organometallic precursor design for solid state materials such as ceramics, metals, and semiconductors.
After receiving his doctoral degree in 1993, he continued his studies on solid state materials and inorganic spectroscopy at UC Berkeley and UCLA, where Cheon was offered a position as an assistant professor at KAIST, a top research university in South Korea. However, at that time, Korea was the most heavily shaken country by the Asian financial crisis.
Cheon wanted to bring the academic knowledge and experience he'd gained in college to the growing scientific community in Korea. Despite insufficient resources to run a sophisticated research laboratory with high-end instrumentation, Cheon overcame those financial hurdles with the help of a group of dedicated and talented students and by using innovative applications of older technology – "wet-solution" chemistry – for nanoscience research.
With his students, Cheon studied the size, shape, and composition of nanoparticles to understand systematically their mechanical and physical properties. As a result, they discovered interesting nanoscale phenomena with a variety of applications in the medical sciences, such as highly sensitive MRI contrast agents for the accurate diagnosis of early-stage cancer.
Cheon also has been exploring nanomaterials as a new toolkit to control cell-signaling pathways at the single-cell level in order to change disease outcomes. His research opens new possibilities in the diagnosis and treatment of diseases.
As the director of IBS CNM, Cheon envisions the Institute as a global hub where researchers from around the world can develop new and exciting science. To find solutions for the bigger scientific problems we are facing today, he believes the Center must aim for "Team-Science," a collective of international scientists with diverse disciplines from chemistry to engineering to medicine, focused on future-driven collaborative research.
Cheon's scientific advancements in chemistry and nanomedicine have been recognized with many of the top scientific awards in South Korea, including Ho-Am Prize (2015), KCS Academic Achievement Award (2013), POSCO ChungAm Prize (2012), and Inchon Prize (2010) and the Presidential Young Scientist Award (awarded by the President of Korea in 2002). On the international level, Cheon received recognition as one of the "World's Most Influential Scientific Minds" by Reuters (2014).
Currently, Cheon serves as a Fellow of the Korean Academy of Science and Technology, Royal Society of Chemistry, and American Chemical Society. He is member of the Editorial Advisory Boards for multiple ACS and RSC chemistry journals focused on Nanoscience and Materials Science, including serving as Senior Editor for ACS Accounts of Chemical Research.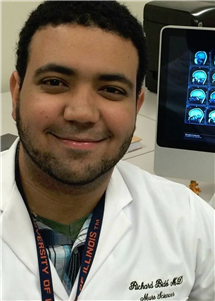 Richard Oliver Bido-Medina,
Illinois International Graduate Achievement Award
Richard Oliver Bido-Medina holds nothing back when describing how it feels to win the Illinois International Graduate Achievement Award.
"This is the greatest distinction I've ever received," he said. "They're recognizing both me and my country. I think this award is a way to promote the work of the University of Illinois and also the outreach of their research conducted here."
Born in Villa Tapia, Hermanas Mirabal, a small, agricultural province in the Dominican Republic, Bido-Medina finished high school at age 14 with one of the highest GPAs of his country for that cohort. By age 21, he received his medical degree with great honors from Universidad Autonoma de Santo Domingo.
Currently, he is a fourth year doctoral student in the Neuroscience Program at Illinois.
"I think the brain is the last frontier of the sciences," he said. "We don't understand the brain even though we have been making progress on unraveling all the mysteries of the neurons, but we are still far from understanding the brain in entirety."
Bido-Medina has extensive experience working for underserved communities in his country on a wide range of topics that oscillates from primary and preventive care for chronic patients to sexual education for adolescents. He became a teaching assistant during medical school and later became an assistant professor of pharmacology at Universidad Catolica Tecnologica Del Cibao. He was one of the founders of the Student Development Unit at Centro Universitario Regional del Nordeste, where he developed numerous academic events and mentored and tutored college students.
In 2013, he was elected as the Youth Delegate of the Dominican Republic to the United Nations General Assembly in New York, Third Committee for Social, Cultural, and Humanitarian Affairs. That same year, he received a Fulbright Scholarship which allowed him to join the Neuroscience Program at Illinois. Immediately, he started developing training and research projects in the Dominican Republic.
In 2017 he received the Neuroscience Outstanding Service Award.
He has several neuroimaging studies being conducted in collaboration between Illinois, CEDIMAT, and Hospital Gautier at Santo Domingo. One consists of the first longitudinal case-control neuroimaging study with Zika virus-infected patients with severe neurological complications, for which he received partial funding from the Center for Latin American and Caribbean Studies of Illinois, through the Tinker Fellowship.
He is also leading a collaborative project that involves psychiatric populations suffering from major depressive disorder and anxiety in the Dominican Republic. He led a project examining early rehabilitation in patients with strokes conducted at Hospital Gautier in Santo Domingo.
Bido-Medina has facilitated the rotation of several Dominican clinicians in different labs in the Beckman Institute from Advanced Science and Technology, with support from the CONNECT lab and the Neuroscience Program. He has also been invited to speak at several neurology and psychiatry conferences in the Dominican Republic.
Bido-Medina is preparing to apply for a medical residency in psychology while continuing research.
"Hopefully I can go back to my home country, start a Ph.D. program, and continue to work in academia," Richard said. "I'm very thankful for the Neuroscience Program, because they have always been very supportive, and also to (psychology professor) Dr. Sepideh Sadaghiani. She has even traveled to the Dominican Republic with me, she has been very interested, and has motivated me through all these collaborations."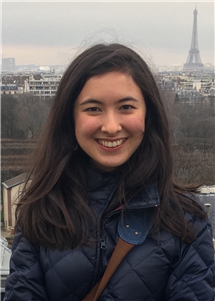 Naomi Kainuma
, Illinois International Undergraduate Achievement Award
What started out as accidental registration for a sexual assault awareness course has turned into a prestigious award for Naomi Kainuma, a senior in political science with a minor in French and psychology. Kainuma has received the 2017 Illinois International Undergraduate Achievement Award for her significant service and commitment to supporting international students and studies.
"I enrolled in CHLH 199B (part of the First Year Campus Acquaintance Rape Education program) by accident and my passion for feminism really skyrocketed. It made me think of the world differently, and now even within my field of political science I have focused on international relations and women's health and women in politics," Kainuma said.
Kainuma, a native of Tokyo, took LAS 199—now called LAS 100, a course that helps international students adapt to life in America—as a freshman and was invited by a teaching assistant to help assist with the course the following year. During her junior year, she became a facilitator for the class and led a class of 13 international students for two hours a week.
"I learned how to facilitate productively and challenge myself when I felt uncomfortable. Most importantly, I believe I learned how to work with people from different cultural backgrounds," Kainuma said.
Although public speaking still isn't Kainuma's favorite activity, she is beginning to apply what she has learned through various opportunities to improve on her public speaking.
"I've gained confidence and am less shy to put myself in leadership positions," she said.
In addition to her work with LAS 199, she presented at the Comparative and International Education Society Conference of 2015 and 2017. In addition to her participation in LAS199, she works for the Women's Resources Center as a First Year Campus Acquaintance Rape Education facilitator and leads a two-hour discussion for freshman and transfer students every week. During spring semester 2017, she studied abroad in Paris through the Illinois Program in Paris.
Being an advocate and ally for others is something that Kainuma looks forward to continuing as she will join the Peace Corps after graduating to teach English in Indonesia. She said it was "unbelievable" to receive the Illinois International Undergraduate Achievement Award.
"Everything I was doing, I was doing because I was interested in," she said. "I didn't think it would lead anywhere—let alone this award."
She added: "It's so surprising and it's such an honor to be recognized for this award and for the work that I've done."
Kainuma's identity has helped her empathize with others while creating avenues for them to learn.
"When I came here from Japan, I didn't believe in myself at all, and I just wanted to be a shadow—someone that no one noticed or talked too. I was self-conscious about my grammar and used different tactics to protect myself from the assumptions about me," Kainuma said.
Now Kainuma uses this experience to help others.
"I'm a confidante to so many people," she said, "and I'm glad I can create a pathway of understanding for students on this campus."
Taylor Hoffman, Samantha Jones-Toal, and Illinois International News
2/15/2018
Related Topics
Chemistry
Political Science
Neuroscience
French
Psychology
Alumni Honors
Student honors
Center for Latin American and Caribbean Studies
College of LAS News
Special Series
Marketing and media
Faculty honors and RSS Feed