Mathematician: Tips could bite into restaurant profits
What's good for waitstaff might not be good for eating out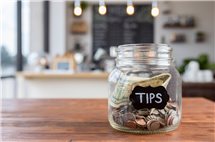 Tipping has become a prominent part of food service culture since it was introduced in the 19th century. That's not to say it goes without debate—and a
mathematics
researcher has found that there is a point where restaurants would be better off eliminating the practice altogether.
Sara Clifton, a J.L. Doob Research Assistant Professor, noticed the contention between tipping and no-tipping establishments and set out to determine if there is a tip rate when gratuities change from being economically beneficial for restaurants to one that restaurant owners would be smarter to avoid.
"I kept reading these articles and wanting to know when the no-tip trend would finally take over like it already has in other countries," said Clifton, whose research has been published in Chaos: an Interdisciplinary Journal of Nonlinear Science. "No one was really answering that question to my satisfaction, so I decided to try myself."
According to experts including Michael Lynn, a professor of consumer behavior at Cornell University, tipping in the United States began shortly after the Civil War in the 1860s. Lynn's studies suggest that aristocratic Americans took the custom of tipping from trips abroad to Europe and began the practice back home to prove their elevated education and class.
Clifton and colleagues created a model of restaurant competition to determine the economic point where it is wise for restaurant owners to eliminate tipping from their establishments. The model took into account basic service fundamentals, such as the fact that better-paying restaurants will have more talented employees, and that service, food quality, and price affects how many customers come to the establishment.
While waiters' and waitresses' take-home pay steadily increases along with the conventional tip rate, pay for cooks and other back-of-house employees generally does not rise with the tip rate. Despite the low federal minimum wage for tipped workers, Clifton's paper said, "waiters consistently earn more than cooks. As the wage disparity increases, talented cooks may defect to restaurants where profits are shared more equitably among staff, and talented waiters may defect to restaurants with higher tips."
"Tipping gums up the works, because waiters like tips," Clifton said, "but cooks don't like getting paid less than waiters because of tips, and diners don't like paying an extra 20 percent at the end of a meal. Because the tip rate has been rising for many decades now, the tension has been growing between waiters, who love tips, and customers and cooks, who dislike tips."
Clifton took these fundamentals and applied them to a set of restaurants, with one hypothetical restaurant that allowed tipping and another hypothetical restaurant that didn't. Her research concluded that there is a specific "critical tip rate" (the exact value was undetermined) that decides the economic viability of tipping. If a restaurant's tip rate was below this critical rate, tipping is a wise practice for restaurants, but if the tip rate is above the critical rate, it is more beneficial for restaurants to eliminate tipping.
Based on historical tip rates, Clifton says that she assumes that American cultures will continue to drive up the conventional tip rate, eventually making it economically beneficial for tipping to go away altogether. She also mentions that the removal of tipping can be socially beneficial, considering its origins and background.
"When tipping first came to America after the Civil War," Clifton said, "the exchange of a tip was a way for a member of the elite class to keep members of lower servant class in their place. Even now, there's lingering classism inherent in tipping. Scholars like Michael Lynn have shown that racism and sexism also play a huge role in tipping. Even correcting for objective service quality, he keeps finding that white male waiters get better tips than either people of color or women, unless the women are especially attractive."
Clifton hopes to continue improving the model so as to make more precise predictions regarding this critical tip rate as well as collaborate with local restaurants or economists for better data.
Logan Weeter
2/20/2018
Related Topics
Mathematics
Faculty research
College of LAS News
Special Series
Marketing and media
Faculty honors and RSS Feed