Learning to be leaders
New event prepares LAS students to lead college orientation courses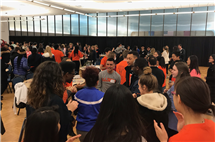 A new student leadership event aimed at training LAS student leaders was such a success that the college plans for more in the future.
Murillo Soranso, the director of first year experiences in the Student Academic Affairs Office in the College of LAS, said about 180 students attended the Strengths Finder workshop. The event, a collaboration between the college's Life + Career Design Initiative and campuswide New Student Programs, was the first of its kind and will likely lead to more.
The event served as the first class for LAS 399, a course that helps student interns identify leadership skills and strengths, particularly for large groups. The course prepares juniors and seniors to help lead first year orientation courses, including: LAS 101, a one-credit, freshman seminar designed to promote success at U of I; LAS 102, a transfer seminar that aims to educate new students about the College of LAS and campus; LAS 122, for students who are new to campus and are also James Scholar students; and LAS 100, which prepares international students for their transition to campus.
The recent workshop began with the student interns taking a test to determine individual strengths. Then they spent time learning how to understand these strengths in the context of teamwork.
"These exercises are important because they serve two roles," Soranso said. "Students can begin to learn more about themselves. If you know that your strength is harmony, which means that you prefer consensus building and don't like to rock the boat, you can explore what that means for you as an individual, as a group member, and as an intern for the LAS 101 program."
Soranso said the strengths framework is a good starting point for students to learn about themselves and ultimately, how they work with others — a key aspect to the LAS introductory course student intern program.
"First impressions, the energy was great," Soranso said. "Everybody was really excited and everyone was giving really good answers in discussions. They were really engaged and happy to be there."
The College of LAS' Life + Career Design Initiative provides students a framework for life-long learning in career development shaped by experiences inside and outside the classroom. Learn more about how financial contributions can provide support for this program.
Samantha Jones Toal
4/3/2018
College of LAS News
Special Series
Marketing and media
Faculty honors and RSS Feed