Professor receives Chemical Pioneer Award
Kenneth Suslick is third in U of I history to receive honor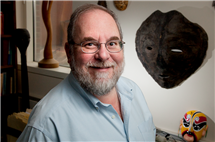 Professor Kenneth Suslick has been named a recipient of this year's American Institute of Chemists (AIC) Chemical Pioneer Award for his research at the University of Illinois.
Suslick is the Marvin T. Schmidt Research Professor of Chemistry and has been at U of I for 40 years, coming to Urbana directly after earning his PhD at Stanford University and a bachelor's degree from the California Institute of Technology. He has published more than 397 papers, edited four books, and holds 48 patents and patent applications.
"The award is for pioneering research on chemical sensing and molecular recognition and other efforts on sonochemistry and sonoluminescence," Suslick said. Sonochemistry is the study of chemical reactions powered by sound waves; sonoluminescence is the creation of flashes of light by imploding bubbles in a liquid when sound waves pass through the liquid.
Suslick also has significant entrepreneurial experience, serving as lead consultant for Molecular Biosystems Inc. and part of the team that commercialized the first echo contrast agent for medical sonography.
First given in 1966, the Chemical Pioneer Award recognizes chemists and chemical engineers who have made outstanding contributions advancing the science of chemistry or impacting the chemical industry or the chemical profession.
Since its inception in 1966, the AIC Chemical Pioneer Award has been given to three faculty members of the University of Illinois, including chemistry professors Carl "Speed" Marvel in 1967, Harry Drickamer in 1983, and Herb Gutowsky in 1991.
The AIC was founded in 1923 with the goal of advancing the chemistry profession in the United States.
Taylor Hoffman
4/18/2018
Related Topics
Chemistry
Faculty honors
School of Chemical Sciences
College of LAS News
Special Series
Marketing and media
Faculty honors and RSS Feed