Illinois students help expand our understanding of mass communication
Professor and undergrads publish paper on the significance of newsreels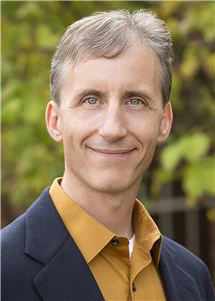 It's not often that undergraduate students can make a real, scholarly impact in their field of study. But students working with Scott Althaus, director of
The Cline Center for Advanced Social Research
and professor of
political science
and
communication
, helped produce a research paper that reexamines the historical significance of newsreels.
"This demonstrates undergraduate students can make an important contribution to discover new knowledge and help us better understand the world in which we live," Althaus said. "Opportunities for undergraduate research, classes like this, have really made their way out in a powerful way."
Those who study mass communication often view the historical progression of the news industry as beginning with newspapers, progressing to radio, and then advancing into television. However, Althaus and the students determined that newsreels, often portrayed as trivial, actually played an important role in the progression.
"Even before radio came about, there was an international newsreel system that distributed newsreel news products to far larger audiences than exist today, including the BBC and CNN," Althaus said.
The new insight comes from an empirical study that Althaus began in 2011 while serving as the faculty advisor for a junior honors seminar political science course that aimed to expose undergraduates to research. The results produced by the class were the first quantitative study on the international newsreel system since 1952.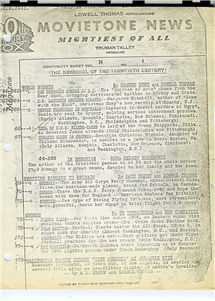 Their study
is being published by the Journal of Broadcasting & Electronic Media, which is a leading specialty journal in the field of mass communication research.
With the leadership of Althaus and the work of his undergraduate researchers, the study scrutinizes earlier assumptions that newsreels were not very serious nor important, as they would often depict stilt walking contests and traffic accidents.
"Yes, the newsreels had that period in the 1910s and 1920s," Althaus said. "But in the 1930s, newsreels transitioned to almost a documentary film medium that detailed important public events around the world."
The importance of newsreels soared during World War II, as the newsreel system provided videos depicting battles of the war to theatergoers who would have otherwise seen news and current events only through images in a newspaper. People who screened newsreels were also able to customize newsreel content to what would most interest viewers in a certain geographical area.
"We're helping to recharacterize the history of what role the newsreels had because we're up against this stereotype that they were frivolous and trivial," Althaus said. "It is always important for us to have an accurate view of transitions between technologies and information distribution systems, because the stories we draw from the past are used to inform our understanding of the present."
Althaus said the key to finishing this research was defining a clear division of labor for the undergraduate students, so that students could work on tasks with clear metrics for assessing the accuracy of their work. Documenting those metrics ensured that the resulting study achieved the highest level of data quality, a level of quality that would be required for making a scholarly contribution to the mass communication literature.
"The College of LAS is really prioritizing more research experience opportunities for undergraduate students, and I hope that if more undergraduates see what their research can accomplish they might get more motivated to seek those opportunities," Althaus said. "Behind our appearance as a large university lies a large number of faculty members who are sitting in their offices with open doors, waiting for students to come."
Samantha Jones Toal
5/14/2018
Related Topics
Political Science
Communication
Cline Center for Advanced Social Research
College of LAS News
Special Series
Marketing and media
Faculty honors and RSS Feed