The fairy godmother of love
LAS alumna Bela Gandhi helps people make the right connection
Bela Gandhi
always had a knack for matchmaking. It was no small talent, either; many of the people she set up on dates eventually married and had children. Finally, Gandhi turned her talent for making love connections into a career and launched the
Smart Dating Academy
in 2009. Today it's one of the top companies of its kind in the United States, and Gandhi regularly gives dating advice on programs such as Good Morning America, the Today Show, and others. Steve Harvey has dubbed her "the Fairy Godmother of Love."
Degrees: BA, '93, Germanic languages and literatures; BS, '93, finance
Family: Husband (and LAS alumnus) Andrew Annacone (BA, '93, history; BA, '93, Germanic language and literatures; MBA, '94); daughter, Jaden, 14; and son, Max, 10.
What is the Smart Dating Academy?
We are teaching people to sometimes date against their instincts. We aren't taught how to identify partners that make us happy as part of our culture, and that is the main driver at Smart Dating Academy. We help single professionals all over the country figure out why they aren't meeting the right people (dating patterns? family of origin issues?), and then help them to put a plan together to have fun and meet people who will give them happy and healthy love.
We take client's photos at our awesome studio in the West Loop of Chicago, write their profiles, teach them how to write emails/texts that get responses, help them get good setups, teach them how to strike up conversations with cute strangers, and find good places to meet people in person. Our typical clients are successful, professional men and women, from age 22-75. About 50 percent are from the Midwest, and the remaining 50 percent fly in from out of state to work with us.
We have clients fill out very extensive questionnaires about their family backgrounds, significant relationships, and why they think they're single. We do a "360 Feedback" survey where we ask their family, friends, exes, and others: "Why hasn't this person found a partner yet?" We put together a plan for each person and meet them to kick off the process. Our clients have the right lenses to focus on the good people, and to throw the bad ones "back to the pond" as soon as possible, avoiding heartbreak, disappointment, and wasting time.
What has been your career path?
I grew up in a loving family with educated parents who immigrated from Bombay, India, to the suburbs of Chicago. After I graduated from Illinois, I went to work in mergers and acquisitions with Arthur Andersen Consulting. My Dad's business had expanded quite a bit by then, and he wanted to build his business in the rest of the world. I knew that this could be a great opportunity for me to really hone my business skills, so I went to work for his company, Coatings & Chemicals Corporation, and started traveling extensively to Europe, Asia, Australia, and South America. We decided to sell the family company in 1998 to Akzo Nobel. Akzo Nobel kept me on until the middle of 2006 to help manage and integrate our company.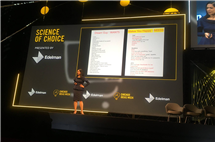 What's interesting is that during that entire time, I was the go-to girl for dating and love advice, and had set up many happy couples who were now getting married and having kids. I would say, "I found a guy for you; go out on one date, and I know you will marry him!" And it started to happen. My first match (made at the U of I) became official with their engagement in 1999, and I knew at that moment that I wanted to help people find love as my purpose. It took me 10 years to build up the courage, put a plan together for Smart Dating Academy, and make it happen.
How did your major prepare you for your career?
It helped me understand how to learn not just another language, but understand better the true essence of being a human being. It made me realize that although we don't understand most people who speak other languages, human beings are human beings, and they say, think, and feel the same things whether it's in English, German, or Gujarati. Speaking German also helped me to seed our non-stick business in Europe—I was able to work on a production line with German men who spoke no English and they were highly impressed that a small Indian girl from America could speak German.
What's your proudest achievement?
My two kids, Jaden and Max. I call them "my two art projects." They are amazing, and I have realized that kids come through you but they are individuals and they are not "you." I love them dearly—and love watching them grow. I'm cheating and will give you a second achievement—I'm really proud of having had the courage to start this business. I love love, and it's the best professional thing I've done!
Dave Evensen
7/26/2018
Related Topics
LAS@Work
Alumni Profile
Germanic Languages and Literatures
History
College of LAS News
Special Series
Marketing and media
Faculty honors and RSS Feed