Illini 4000 riders hit the road to fight cancer
Bicyclists from Illinois pass campus during summer-long journey across the country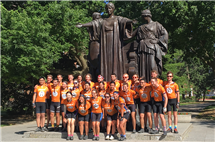 Biking roughly 4,000 miles across the country might seem daunting, but to members of the Illini 4000, the reason for riding couldn't be anymore clear.
"We're not just riding our bikes for fun," said Dan Reeter, a student in actuarial science. "We're riding our bikes for a real cause and that makes everything a lot easier, just focusing on that."
This year, 27 students in the student organization (including eight from the College of LAS) are on their way from New York to California to raise awareness and funds for cancer research. Their journey began on May 20, and they are scheduled to finish in August.
For most of the cyclists, the journey is personal.
"My mom had uterine cancer and so did my sister and my aunt," said Analisa Soare, student in integrative biology honors. "They're both survivors but I'm probably going to get it because it runs in the family... It was also hard on (my mom) because she loves kids and had a hysterectomy. Even though she was probably done (having kids), having that decision taken from her affected her a lot, so I ride for her."
So far, the group has earned more than $100,000, surpassing its goal.
"To be honest, the generosity of people is fantastic," Soare said. "At one point we were taking pictures on this bridge. This couple sees us all in our orange jerseys and they're like, 'Oh what are you guys doing?' so we explain. They gave us 20 bucks right there."
Though the group is already spending weeks trekking across the country, training for the ride had to begin as early as October to prepare for the physically taxing trip.
After all, the group rides an average of 70 miles a day, every once in a while completing longer, 100-mile days.
"Everyday when we wake up, we're a little sore," Reeter said. "But we wake up with a dedication. Each rider picks someone in their life or someone they know who was affected by cancer and we dedicate the ride to that person and think about the person while we ride."
But aside from facing physical challenges, the team seemed to agree the ride held many mental challenges, too.
"I feel like I've been doing this for a month but it's been just over two weeks," Soare said. "So mentally, some people like to sing songs. Sing-alongs help or talking to your teammates help. They're the ones that help you get through it."
Soare said the team often plays a game called "hot seat" which consists of asking teammates any question imaginable, if they're sitting in the hot seat.
"You really get to know a lot about someone," Soare said. "Everyone really opens up, there's a lot of bonding going on."
Last week, as the Illini 4000 rolled into Champaign, they came to rest next to Alma Mater after 75 miles of familiar physical and mental tolls. But for many, the route was familiar for a different reason.
"It was the route we had taken on our very last training route," Reeter said. "They were the exact same streets we had ridden on the very first day when we were still learning to ride on our bikes. It was a very surreal experience. It's really nice to be back."
The team is scheduled to finish their route on August 4 in San Francisco.
Samantha Jones Toal
6/14/2017
Related Topics
College of LAS News
Special Series
Marketing and media
Faculty honors and RSS Feed